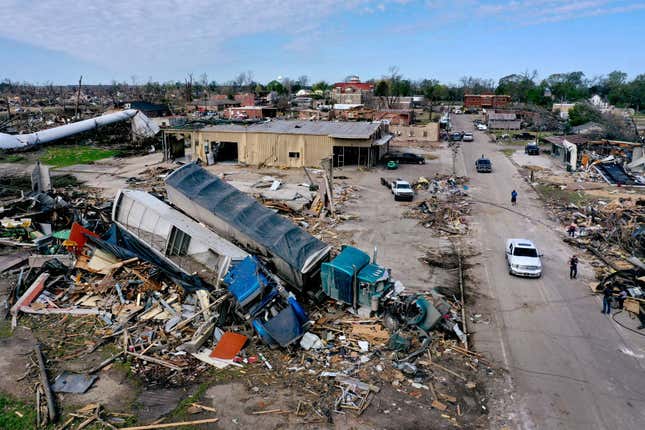 A tornado swept over Western Mississippi on Friday night, felling trees, flinging roofs off of houses, and killing at least 25 people. At least one person died in nearby Alabama.
The twister touched down in the small town of Rolling Fork. It stayed on the ground for about an hour and traveled about 170 miles, Mississippi meteorologist Nicholas Price said, according to Reuters. The tornado also caused damage to the nearby town of Silver City, the National Weather Service tweeted on Friday night.
Aaron Rigsby, a storm chaser who captured images of the tornado, told the New York Times that it grew from a narrow formation into a large wedge shape on Friday. He tweeted about his experience helping pull people from rubble and how he and others had to flag down help. A video uploaded to Twitter shows block after block of houses reduced to piles of brick and splintered wood, broken trees, and windowless cars.
Eldridge Walker, the mayor of Rolling Fork spoke to CNN as he stood among hills of debris: "Last night it was dark. We were using flashlights. So now I can see what I didn't see earlier this morning. And it's worse ... My community is gone."
Emergency workers and crews spent the weekend cleaning up debris and assessing the extent of the damage. Meanwhile, more than 22,000 customers across Central and Western Mississippi are without power, according to Poweroutage.us.
Mississippi Governor Tate Reeves issued a state of emergency on Saturday for all of the counties most affected by the tornado. President Joe Biden declared a major disaster in the state on Sunday, offering federal aid to the affected areas. The Mississippi Emergency Management Agency has set up supply pickup stations throughout the affected areas, including on in Rolling Fork to provide food, clothing, and water.
Deadly Mississippi Tornado Kills More Than 2 Dozen | Extreme Earth
Deadly Mississippi Tornado Kills More Than 2 Dozen | Extreme Earth