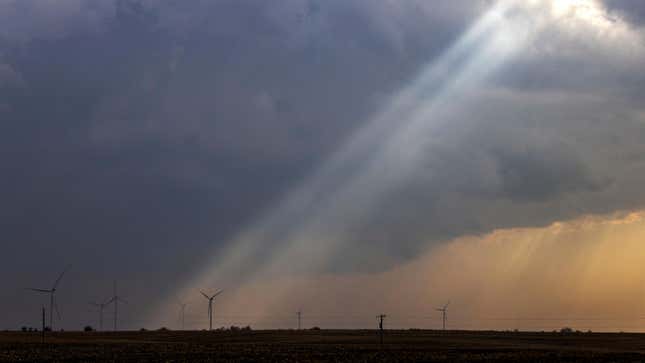 Severe weather that spawned thunderstorms and tornadoes throughout the U.S. on Tuesday is still threatening states across the South and Midwest today.

Another Vortex Hits Texas | Extreme Earth
States around the Ohio Valley, including Ohio, Indiana, and Kentucky, are at risk of severe thunderstorms today, according to a National Weather Service alert. Arkansas, Louisiana, and parts of Texas are expected to get heavy rainfall tonight that could lead to flooding. "Be prepared to take cover if warnings are issued, or seek higher ground in the event of flash flood warnings," the alert says.
Some of the affected areas, like Southeast Michigan, could see large hail, strong winds, and tornado formations. "Be weather aware and ready to act. Have multiple ways to receive warning information," the Detroit National Weather Service station tweeted.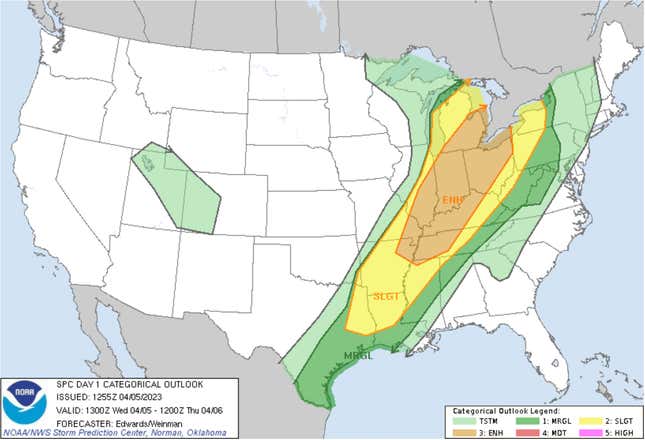 Storms passed through the Midwest yesterday, and several tornadoes were confirmed in Illinois, the Associated Press reported. Officials warned people living near potential storm formations to have shelter available before going to bed on Tuesday night. The damage caused by those storms has cut power to thousands across multiple states around the Great Lakes. More than 25,000 customers in Michigan are currently in the dark, according to Poweroutage.us. More than 16,000 customers in Indiana and 10,000 in Illinois were without power as of Wednesday morning.
This incoming brutal weather arrives just days after a series of storms devastated the Central U.S. late last week. Tornadoes killed as many as 32 people throughout multiple states, including Arkansas, Illinois, and Indiana, Reuters reported. Videos uploaded to Twitter show a twister forming under large, ominous clouds near Little Rock, Arkansas.
Just two weeks ago, a strong tornado rolled through Mississippi and Alabama, killing 26 people. Neighborhoods there were reduced to rubble after the strong winds destroyed homes, vehicles, trees, and power lines.
Want more climate and environment stories? Check out Earther's guides to decarbonizing your home, divesting from fossil fuels, packing a disaster go bag, and overcoming climate dread. And don't miss our coverage of the latest IPCC climate report, the future of carbon dioxide removal, and the un-greenwashed facts on bioplastics and plastic recycling.