Obitz.com has revealed that customers browsing the site on an Apple computer aren't necessarily being shown the best deals the discount travel broker has to offer.
It's all part of a "predictive analytics" initiative the the company has rolled out in order to gain more revenue.
As reports the Wall Street Journal, a study conducted by Orbitz Worldwide Inc. found that individuals who booked their vacations through the site using an Apple computer will typically spend as much as 30% more on their accommodations than those accessing the site using Windows.
The WSJ notes that Forrester Research also found the average household income for adult owners of Mac computers is $98,560, while the average PC-owning adult brings home a slightly less handsom $74,452.
While they are quick to assure that the same results will be shown to users of either operating system, Orbitz explains that pricier and often more luxurious offers are displayed more prominently to those accessing the site on a Mac.
G/O Media may get a commission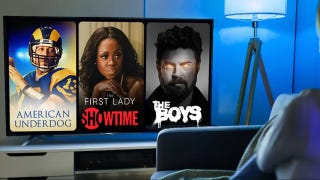 UNDER $1
99¢ Prime Video Channels
Readers: What do you think of this? [WSJ via MacRumors]
Update: Orbitz CEO Barney Harford issued the below statement to Gizmodo, in response to recent press.
Nonsense that we'd charge Mac users more for the same hotel, which is unfortunately the incorrect impression that many readers seem to be drawing from this [WSJ] article's "subscriber content preview."

However, just as Mac users are willing to pay more for higher end computers, at Orbitz we've seen that Mac users are 40% more likely to book 4 or 5 star hotels as compared to PC users, and that just one of many factors that determine which hotels to recommend a given customer as part of our efforts to show customers the most relevant hotels possible.

More on what we're actually doing to create a personalized experience in my recent USA Today blog post: https://bitly.com/JWLTzz.

Unfortunately WSJ editors have chosen to hide the full story behind their pay wall, so most of the world is reacting to a confusing headline, while the key point "the company isn't showing the same room to different users at different prices" is hidden because... the WSJ is steering users to pay more to be able to read the full article and understand what's actually happening.
Barney Harford
CEO, Orbitz Worldwide