We love what gadgets do so much—like what's under the hood—that sometimes we forget that technology can be beautiful. At Gizmodo Gallery we're going to show off products so titillating that we don't just want them—we desire them.
We make a point of regularly featuring #desired products. Gear so pretty it makes us drool. There's a fetishism to all this, of course, and not in a sexy way. We don't only love gadgets because they do what they're supposed to. That's essential but insufficient. The finest things in the world satisfy our senses as well as our rational minds.
So we combed the world looking for the most majestically designed products to show off at Gizmodo Gallery. We rounded them all up and called them in. Some of them are rarely seen products featured on the site that we've been dying to have. The brand new Audeze LCD-3 headphones are some of the finest in the world. Braun recently brought back it's magnificent Dieter Rams-inspired watches, and we couldn't resist the urge to wrangle a few to slide on. We even called the high-speed video fanatics at Vision Research and convinced them to send us one of their most badass cameras: the Phantom V711 can shoot HD video at up to 1.4 million fps. That's 1,400,000 FRAMES PER SECOND. Do you know how crazy that is? What? Why would I ever need that and why do I want it so badly?
G/O Media may get a commission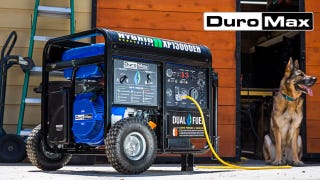 Black Friday Sale
DuroMax Generator Sale
So stop by the gallery and have your senses melted by beauty.
Gizmodo Gallery 2011 @ White Box
329 Broome Street. New York, NY, 10002
Monday, December 5th
Press Day, Press Only
Inquiries to media@gizmodo.com
Tuesday, December 6th
12noon – 5pm
All Day Special Event: World's Largest Multi-Touch LCD
Party: Opening Party Invite Only 7pm - 10pm
Wednesday, December 7th
12noon – 8pm
Special Events (secret!)
Party: Gizmodo Reader Meetup and Nerf Party 9pm - 11pm
Thursday December 8th
12noon – 8pm
Special Event at 6pm: Home Theater How-To and Demo Session
Party: Kotaku Reader Meedup with 3D Gaming
Friday, December 9th
12noon – 8pm
All Day Special Event: MarkerBot Demos
Special Event at 6pm: Artist Talk - Micah Ganske's MakerBot Experience
Saturday December 10th
11am - 8pm
All Day Special Event: Free Pictures with Lego Santa Yoda
Sunday December 11th
11am - 6pm
All Day Special Event: Free Pictures with Lego Santa Yoda
Read more about the Gizmodo Gallery here and follow @gizgallery on Twitter. Special thanks to Land Rover - without them, there would be no Gizmodo Gallery.