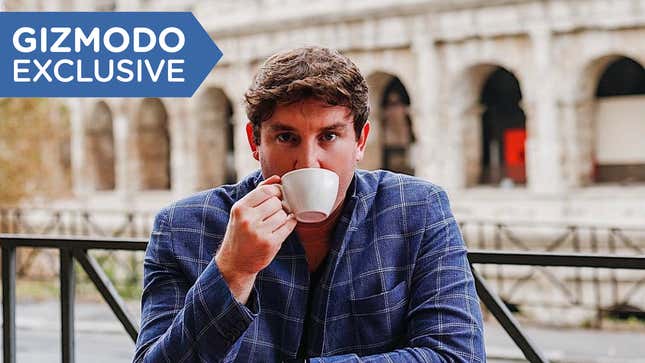 Last week, the right-wing social network Parler was sold to a media conglomerate called Starboard. The company shut Parler down indefinitely to "undergo a strategic assessment." It marks the end of a long and tumultuous saga for the conservative social media company—once seen as a refuge from mainstream apps like Twitter—including a botched deal with the Nazi sympathizer formerly known as Kanye West, ties to domestic terrorism, and temporary banishment from the app stores. In a conversation with Gizmodo, Starboard CEO Ryan Coyne said Parler's future is uncertain, but one thing is clear: politics isn't his priority.

Netflix Passwords, ChatGPT Can't Detect AI, and No More CoTweets | Editor Picks
"No reasonable person believes that a Twitter clone for conservatives is a viable business model," Coyne said.
Coyne, a 35-year-old Cornell graduate who got his start in finance and now lives in San Juan, Puerto Rico, is no leftist. Starboard's businesses include the right-wing news sites American Wire News and BizPac Review, as well as a brand called We the People, the "Wine for Conservatives." Coyne said free speech will still be a part of Parler's mission, but lining up with conservative values seems like a business opportunity for the entrepreneur, not a scheme to advance political goals. Talking to Coyne, it's clear he doesn't want to be seen as a Republican firebrand. He's here to make money.

"This is not a politically motivated advocacy organization. The goal is business first," Coyne said. "Parler has to be a self-sustaining business that generates the profitability necessary to fuel growth."

Taking a social media platform offline is guaranteed to drive away many, if not most, users, and it's a sign that radical change is on the way. The CEO said he's not sure what the new Parler will look like, or even if it's going to be its own social media platform by the time he's done.

"One possible idea is licensing the technology for individual communities that want their own white label social media service," Coyne said. "Hypothetically, you can imagine the moderators of r/Wallstreetbets wanting their own website where they can make all the rules. It's a reasonable thing for us to evaluate."
Coyne may be singing the opening lines of a funeral dirge for the so-called "alt tech" movement. Conservatives celebrate apps like Parler, Gettr, and Donald Trump's Truth Social present themselves as alternatives to the big tech boogeymen. But what truly unites them isn't politics, its tiny user bases and an utter failure to make money. So far, Parler and Truth Social made peanuts running clickbait sponsored content and gutter ads. Most of the best known alt-tech companies are simply conservative political charities fueled by billionaire activists, including Parler. Once upon a time, the insurgent social network was kept afloat by Republican heiress Rebekah Mercer, who initially tried to keep her involvement a secret.
Some of Parler's fiercest adherents, including former employees, are reportedly outraged at the platform's new direction. According to a report in the Daily Beast, Parler fans and ex-employees are discussing launching a competing version of the site. "I'll pray for them," Coyne said. Dennis Harrison, a former lead engineer at Parler cited in the Daily Beast article, did not respond to a request for comment.
Parler started in 2018 as the backlash against social media content moderation reached a fever pitch. But with Elon Musk in the saddle at Twitter, it's hard to argue there's no place online for the kind of "free speech" the right celebrates.
"Parler has its roots as a conservative Twitter alternative, but to compete as a social media company, you're going to have to be more than that," Coyne said. "Our place in the ecosystem is going to be determined by the value that we bring by augmenting Parler's technology."
But even compared to its generally unsuccessful alt tech peers, Parler languished. For a moment Parler, was the darling of conservatives from Sen. Ted Cruz and Alex Jones to extremist groups including the Proud Boys and the Atomwaffen Division, a neo-Nazi domestic terrorist network. But Parler fell behind after Apple and Google temporarily banned it from their app stores over ties to the January 6th riots. The company ran into legal trouble for facilitating the insurrection, even though Paler reported threats of violence at the Capital more than 50 times. To name one example, lawyer and Trump-supporter Lin Wood took to Parler to call for the murder of Vice President Mike Pence.
Coyne disavowed his company's history and its association with the Capitol rioters: "Parler, in whatever form it takes, will not be a safe harbor for those engaging in or otherwise planning violence of any kind."
Ye (formerly known as Kanye West) said he would buy the beleaguered platform in October 2022, but Parler called off the deal the same day Ye declared his love for Hitler in an interview. In January 2023, Parler laid off nearly all of its employees.
The future looks grim for Parler's brethren, too. Twitter and Meta reinstated Donald Trump's accounts. The former president has an exclusivity contract with Truth Social that ends in June, and reports say Trump is eager to return to his beloved Twitter. Meanwhile, even leading popular MAGA figures can't find an audience on apps such as Gab and Gettr.

What makes social media and communication platforms successful is the network effects you get when a lot of people use them. It's no fun owning the libs in an echo chamber that doesn't have any libs in it. Turns out running a social media platform is hard, and intentionally excluding half the population isn't a winning business strategy, as Coyne himself noted.
If Coyne is successful in turning Parler into something people want to use, he'll soon deal with the problem that business maverick Musk can't seem to grasp. Censorship is just a mean word for content moderation, which is something users want and the market demands. Musk has gone from dipping his toes in the conservative water to plunging headfirst. Avowed neo-Nazis find a comfortable home on Musk's Twitter, while reporters get banned for committing flagrant acts of journalism, like tweeting links to their articles in major publications like Wired and the Washington Post.
By and large, Americans don't like Nazis and would rather not hear from them. Meta, Google, and every major advertiser don't want to be associated with hate speech and misinformation. It's not because they're "woke," it's because they are businesses, and large swaths of their customers don't like slurs. Even if you leave the Nazis out of the equation, there's plenty of perfectly legal content that even the self declared "free speech lovers" of the world have a hard time platforming. Take the pro-ana community, a group of people who think anorexia is a good thing and use social media to promote it. Gizmodo asked Coyne where he'd draw the line.
"I certainly would never support something like [pro-ana], and no one wants to own a company that does. I hope these people get the mental health services that they need," Coyne said. "But at the end of the day, it's the right of an individual to seek out people that will validate their opinion. I don't think it's reasonable to expect a communications platform to prevent anything and everything that could be viewed as 'bad,' for lack of a better word."

There's a difference, however, between a communications platform and a user-generated social media platform that promotes content using an algorithm. "If you're going to be recommending content, you need to make sure you're not recommending harmful content," Coyne said. "But for a variety of reasons I don't know if Parler is going to have that kind of recommendation engine in its new form, whatever that ends up being."