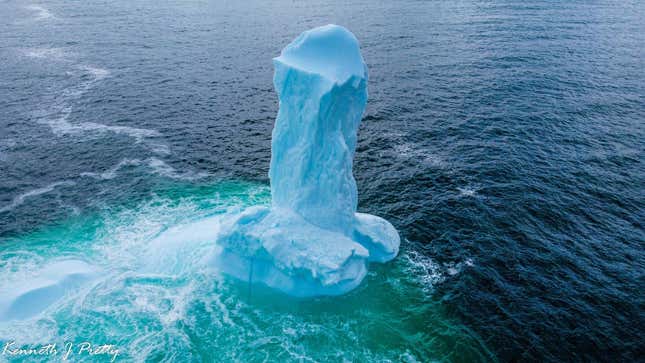 A man from the town of Dildo, Canada captured images of a remarkable penis-shaped iceberg off the country's east coast. The natural wonder set off a viral frenzy, but sadly seems to have since lost its rounded tip.

Mississippi's Water Crisis | Extreme Earth
Canadian photographer Ken Pretty took the photos with his drone on April 27. "I heard about the iceberg through a group on Facebook called Newfoundland Iceberg Reports, where people were commenting on the unique characteristics of the iceberg," he told Earther in an email. "Since Harbour Grace is only [a] 30-minute drive from home, my wife, Wanda, and I went there with my drone."
He uploaded images of the iceberg to Facebook last week, and the internet immediately noticed. "The lady that dubbed it 'Dickie Berg' was probably the best comment," Pretty said. That name has stuck.
His post now has more than 400 comments in multiple languages and has been shared more than 6,000 times. Pretty knew that his photos of the hilarious iceberg would get attention, but he never imagined that they would go viral around the world.
Here's a video he uploaded to YouTube of Dickie Berg:
But soon after Pretty uploaded photos of the phallic berg, he saw commenters noting that the bulbous tip had since fallen off. He shared a link to a post apparently showing the tipless Dickie. In response, the Facebook account Newfie World Order uploaded a memorial video, complete with sad music and white birds, to mourn the passing of the special iceberg. "The memory of Dicky Berg still lives inside me, inside all of us," one person wrote under the video.
RIP, Dickie Berg. You were here for a good time, not for a long time.
Want more climate and environment stories? Check out Earther's guides to decarbonizing your home, divesting from fossil fuels, packing a disaster go bag, and overcoming climate dread. And don't miss our coverage of the latest IPCC climate report, the future of carbon dioxide removal, and the invasive plants you should rip to shreds.