Between triple-digit temperatures and high humidity, this year's Olympics have been a hazard to athletes—and a scary preview of our hotter future.
We may earn a commission from links on this page.
I think we can all agree that the 2020 Olympics in Tokyo are cursed. They were delayed a year due to the ongoing covid-19 pandemic, but the delay and various precautions like banning spectators haven't stopped athletes and workers from contracting the virus. And then there's the climate crisis.

These Olympics have been plagued by relentless heat. There have been tennis matches where the heat index made it feel like 99 degrees Fahrenheit (37 degrees Celsius), volleyball matches where the sand burned players' feet, and the teams in the women's soccer have asked for their match to be postponed or moved among other things. Here are some of the worst ways these hazardous conditions have affected this year's games.
Recent Video
This browser does not support the video element.
Tennis Player Suffers Heatstroke
By any normal measures, it's been way too hot to play tennis in Tokyo, and yet the matches have gone on. For players, they have been a disaster. Last week, Spanish tennis player Paula Badosa suffered heatstroke, which forced her to leave the court in a wheelchair, forfeiting her women's singles quarterfinal match against the Czech Republic's Marketa Vondrousova.
Earlier the same day, Russian tennis player Daniil Medvedev told an umpire he feared for his life because of the heat. Officials made the call to move tennis matches' start time to 3 p.m. instead of 11 a.m. to avoid the hottest weather. But in Tokyo—especially amid the climate crisis—weather later in the afternoon is still brutally hot.
G/O Media may get a commission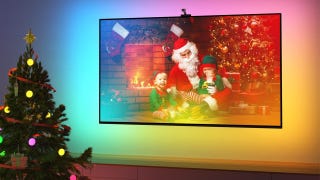 Clip Coupon
Govee Envisual TV LED Backlights
Volleyball Players' Feet Get Burned
To help players stay cool, organizers have installed electric fans and provided competitors with ice baths and coolers filled with bottled water. But all of that only goes so far for volleyball, which is played barefoot. Those measures don't do much to cool down the sand.
Volleyball players suffered from not only hot air temperatures but also scorching ground temperatures. In fact, during practices last month, some players even said the sand burned their feet, forcing them to leave the court. Officials had to hose down the sand before competitors could return. Nevertheless, NBC announcers covering the games have said the sand got up to 113 degrees Fahrenheit (45 degrees Celsius) during recent matches.
Archer Collapses From Heat Exhaustion
Archery competitions have also been blisteringly hot. During the first week of the Olympics, Russian archer Svetlana Gomboeva collapsed while she was checking her final scores. That day in the archery dome, highs were forecast at 91 degrees Fahrenheit (33 degrees Celsius).
Gomboeva's staff and teammates rushed to her side and put bags of ice on her head to cool her down, and she quickly regained consciousness. But she still left the arena on a stretcher.
Heat Is Putting Soccer Matches In Peril
The women's soccer teams from Canada and Sweden are scheduled to play in the gold medal match final on Friday at 11 a.m. local time at Olympic Stadium. But on Wednesday, they requested that the match be rescheduled due to extreme heat and humidity projected for the morning of the game. But according to CBC News anchor Devin Heroux, there's a problem: track and field is scheduled to play at the stadium in the evening. Let's hope they find another solution, like moving the game to Yokohama Stadium where the semifinal was held this week so that it can take place after the day's peak heat.
The Marathon? It'll Be Hot, Too
The women's and men's marathon races are set to take place in Sapporo this weekend. They were originally planned for Tokyo, but organizers relocated them to Sapporo, which is well north of Tokyo and located on the island of Hokkaido, which is generally cooler.
But it seems the heat can't be avoided so easily. Hokkaido is currently undergoing a historic heat wave—average temperatures over the month of July have set records, soaring up to 101.2 degrees Fahrenheit. (38.4 degrees Celsius). Not exactly ideal conditions for running any distance, let alone 26.2 miles (42.2 kilometers).
Organizers are taking precautions, supplying 14 water stations alongside the course, nine of which will also have crushed ice. But at a certain point, shouldn't we take a step back and ask if the Olympics is really worth contestants and workers risking their lives?
Last week, the Daily Beast found that, in their bid to host the Olympics, Tokyo officials weren't honest about the potential dangers heat could pose. In a 2020 bid document, the group behind the bid assured the International Olympic Committee that "with many days of mild and sunny weather, this period provides an ideal climate for athletes to perform their best." But Tokyo's temperatures have trended upward, and climate change is increasing the risk of even more extreme heat. If we're going to have Olympic games in future years, we better take a long hard look at climate trends before we book a location.