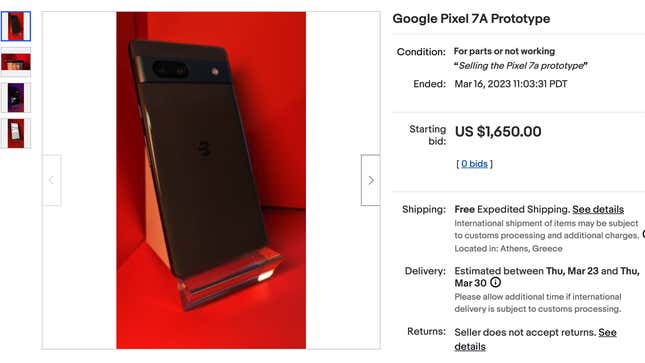 An eBay user spent more than $2,500 for what might be Google's upcoming mid-range phone, a device that by the seller's admission doesn't even work. Whatever you think of the sale, it at least means we're getting a few more pictures of the alleged Pixel 7a that could be hitting store shelves in just three month's time.
How Good is the Battery Life on the Pixel 6a?
This week saw two separate "Google Pixel 7A Prototype" eBay listings hit the site, both posted by the seller "nikoskom-94." While one sold, the other listing was suddenly taken down without notice. The seller noted that the device doesn't actually start correctly, and is only able to enter into a fastboot mode.
"Maybe someone can make it work and own a very collectible device ahead of its launch," nikoskom-94 wrote.
The listing does not say where the phone came from, but said its SIM tray is missing, even though it's supposed to be in "excellent cosmetic condition." The starting bid was for $1,650, but a total of eight bids Thursday shot the device up to a grand total of $2,700. Just a reminder, this is over five times the expected retail price for the device. FOMO truly is a hell of a drug.
G/O Media may get a commission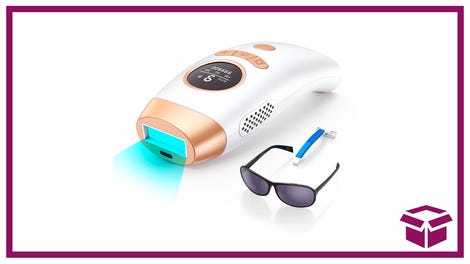 58% Off + Coupon
IPL Hair Removal Device
The listing was first noticed by 9to5Google. A few of the pictures of this particular 7a show that it claims to have 8GB of Samsung LPDDR5 RAM and 128GB of memory from SK Hynix. Otherwise, there's really not much else to go on, but at least it does confirm a few earlier, pictureless rumors from earlier this week.
Details about the Pixel 7a have been leaking all over the place in recent days. On Monday, leaks showed the upcoming mid-range phone will have a 90Hz refresh rate (compared to the 6a's 60Hz), a 6.1-inch display, and 8GB of RAM. The device should have two 12-MP cameras on the backside, something clear in these eBay pictures.
Notably, those leaks were found by Vietnamese site Zing News, which said the phone it found could also only launch in fast boot mode. 9to5Google has the phone set to launch in mid-June according to retail listings. A Wednesday rumor from tipster Yogesh Brar of 91mobiles has priced the 7a at $450 to $500, which is your average for Google's cheaper version of its mainline phones. The Pixel 6a debuted at $449, so this price point is perfectly within expectations. At the same time, the rumored Pixel Fold is slated to cost somewhere between $1,300 to $1,500.
Google is probably set to drop deets for its newest devices during Google I/O, which is slated for May 10. In the meantime, Google may be having a bit of a leak problem at its office, as renders for the Pixel 8 Pro show that the next big Google phone could have rounded edges.