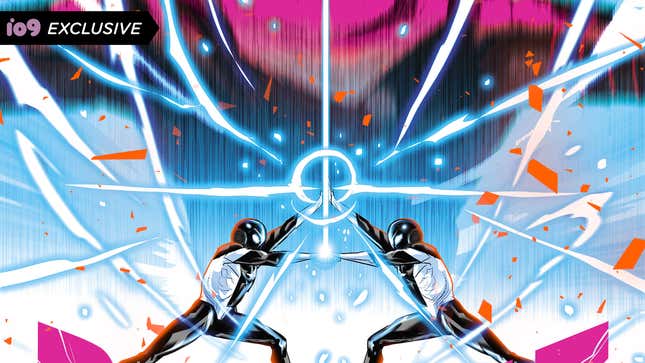 Image Comics' superhero series turned cross-comic multiverse Radiant Black has long played with all sorts of tropes from the genre, drawing inspiration from places like Japanese superhero fiction and classic big-two comics. But its latest twist is going back into the past to emulate an all-time iconic moment in superhero history.

How The Last Airbender Inspired Lisette Olivera

This week's Radiant Black #24, by Kyle Higgins, Marcelo Costa, Igor Monti, and Becca Carey, sets the stage for the upcoming "Massive-Verse" event Catalyst War, and concludes with a shocking choice: Radiant Black's on-again, off-again dual protagonists, Nathan and Marshall, have both been wielding the titular heroic mantle, ever since an early twist in the series saw Nate badly injured and hospitalized. Now, before the biggest threat either of them has ever faced as a hero is upon them, the source of their powers has given them an ultimatum—only one can truly wield their shared abilities, and they have to decide now.

Or, really, you the audience do. Issue 24's final page includes a QR code readers can scan to go to a website that polls them on whether or not Nate or Marshall should be Radiant Black going forward (try it on the page below, or just... y'know, click this if you don't want to be fancy about it).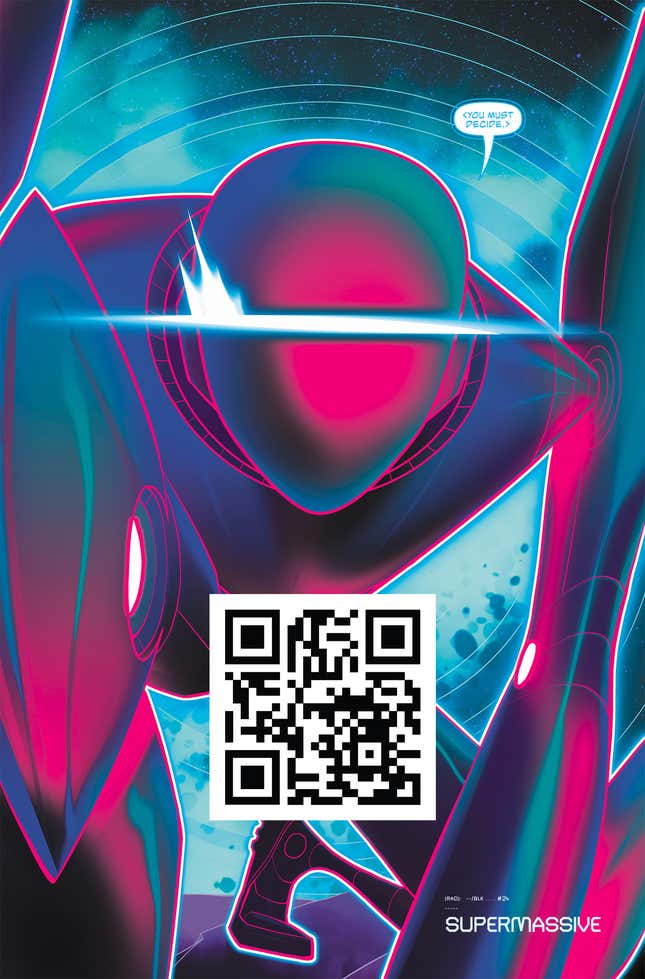 "This is the biggest choice Nathan or Marshall has ever had to make, on the eve of the greatest challenge they and the world have ever faced," Higgins told io9 over email. "Can people change? Is either one of them ready? Who would you trust with the fate of the world?"
"I'm really excited to finally be able to talk about this one. Marcelo, Michael, and I have been planning it from the earliest days of the book, with this decision leading directly into the Catalyst War," Higgins continued. "We'll be collecting votes for the next 30 days. After Supermassive later this month, readers can come back to Radiant Black in July with issue 25, part one of the Catalyst War, to find out who's going to be taking over the mantle. Our goal with this series has always been to channel the type of excitement that made us fall in love with superheroes. Now, giving readers the opportunity to decide the fate of the book, the characters, and possibly the world? Well, that certainly excites me!"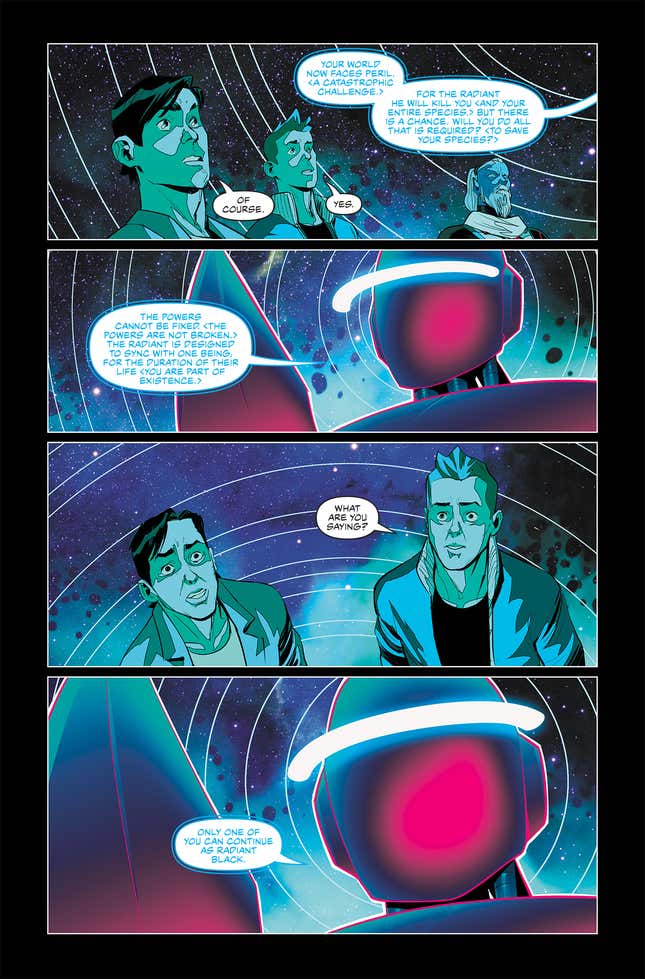 "This is something that I never thought was possible for us; asking readers to decide the course of the story is incredibly rare," Costa added. "When Kyle pitched this idea to me, focusing the decision on Nathan or Marshall, I freaked out. Also, I don't know who to pick! I can't wait to see who readers vote for. I think we're going to be in for a surprise."

The move, of course, echoes one of the most infamous moments in DC Comics history—fitting, given Higgins' past writing for the Bat-Family at the publisher—when fans were asked to take part in a phone poll that would decide if Jason Todd's Robin would live or die after encountering the Joker during the events of the 1988 storyline A Death in the Family. The stakes are a little less fatal here, and even though Jason went on to live a fulfilling second life after a 72-vote difference condemned him to death there, it's still one of the most iconic Batman moments decades later.
"The biggest decision in the history of the Massive-Verse, and we're leaving it in the hands of our readers? When Kyle first pitched this to me I thought it was impossible, but possible it is—and it's not the last surprise of the Catalyst War, either," Radiant Black editor and designer Michael Busuttil told io9, before jokingly concluding, "Plus, the loser of this poll will be beaten to death with a crowbar by the Joker!"
Or is he joking? Stranger things have happened in superhero comics. Joker-crowbar or not, readers have just under a month to vote, when the poll closes on June 2.
---
Want more io9 news? Check out when to expect the latest Marvel, Star Wars, and Star Trek releases, what's next for the DC Universe on film and TV, and everything you need to know about the future of Doctor Who.