With the impending launch of the Apple Watch, many people have been wondering how a company geared towards selling gadgets to techies will flog $5,000 fashion accessories to Vogue editors. According to documents seen by 9to5Mac, the solution lies in hiring fashion-concious staff.
The site claims to have seen "internal hiring documents" that say Apple is hiring retail staff with a "fashion or luxury background". Logically, they'd be selling the Apple Watch to interested individuals in Apple Stores — and quite possibly, this could mean the demise of the legendary Apple Genius T-shirt in favor of something a little more classy.
Separate from this revelation, there's also the question of physical security. Apple Stores have been the target of smash-and-grab raids before, and it's eminently possible that the Apple Watch will make them even more attractive for thieves. For one thing, unlike iPhones, the Apple Watch doesn't have a cellular connection, so stolen units can't be blacklisted by Apple so easily. In addition, if the high-end models do end up costing several thousand dollars, the haul for thieves would be much, much bigger.
Whether that just means more broad-shouldered security guards hanging around the entrance, or a move towards a showroom-style store with little inventory on hand is unclear, but either way, it's very likely that Apple's latest product may cause some fundamental changes to the Apple Store Experience™. [9to5Mac]
Image by Getty
G/O Media may get a commission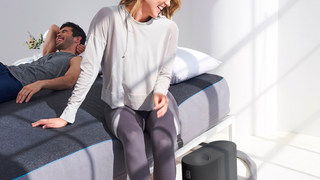 Eight Sleep Pod Cover