Ron Gilbert, creator of The Secret of Monkey Island video game, joins us this week on io9's Geek's Guide to the Galaxy podcast to talk about the Monkey Island series, fantasy marauding game Deathspank, and parodies of adventure games.
The Geek's Guide to the Galaxy is hosted by John Joseph Adams and David Barr Kirtley.
You can download the MP3 for this episode here, subscribe to The Geek's Guide to the Galaxy podcast feed here, and browse other episodes here.
Read on for this episode's fabulous SHOW NOTES!
0:00 Introduction
Interview: Ron Gilbert
01:37 Interview begins
01:47 Gilbert talks about his latest game, Deathspank
02:33 Deathspank as a parody of dungeon crawling PC games
03:37 Which two games would Rob Gilbert force Roger Ebert to play?
05:00 Which game comes closest to being art?
05:46 What was it like getting the gang back together for the Monkey Island remakes?
G/O Media may get a commission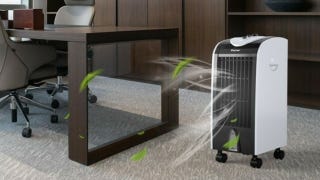 Save $10
Evaporative Portable Air Conditioner Cooler with Filter Knob
06:52 What's it like to Re-play a game you've designed?
08:01 Tim Powers' On Stranger Tides and its influence on the Monkey Island series
09:00 Does Gilbert read a lot of Science Fiction and Fantasy?
09:22 Who are Gilbert's favorite authors?
09:49 Has Gilbert ever written any prose fiction?
11:30 What's with all the smartass remarks? And Orson Scott Card's involvement in Monkey Island.
13:03 Did Disney ever send him a royalty cheque for Pirates of the Caribbean
14:13 What's with the ending to Monkey Island 2: LeChuck's Revenge? Will Gilbert work on the series again?
15:38 Gilbert's involvement in the new Tales of Monkey Island games
16:21 What are some of the strangest emails Gilbert's received?
17:39 Any crazy theories about the secret of Monkey Island?
18:07 Why's Gilbert so grumpy?
19:21 How much redeeming social value do today's video games have?
20:39 Gilbert's thoughts on the changing nature of the games industry
22:55 Is there less humor in game than there used to be?
24:11 Examples of good humor in games
25:08 What makes Limbo so good?
27:15 "Why Adventure Games Suck"
28:54 Death-free Adventure games
30:16 "Who Killed Adventure Games?"
32:43 Has the Internet changed the fundamentals of the Adventure game?
35:00 Good Adventure games from the past ten years?
35:31 Fan-made Adventure games
36:44 GamerWidow.com and "Game Addiction"
38:59 Advice for aspiring Game Designers
40:13 University-level game design programs
41:29 What's Gilbert working on now?
42:14 End of interview
42:25 Ad Spot for Pump Six and Other Stories by Paolo Bacigalupi
Dave and John talk about the sadly neglected Adventure Game genre
43:53 Adventure, the text-based Adventure game
45:50 The perception that video games are just toys
46:19 John's first adventure game, Zork
47:22 Where'd all the Text Adventure games go?
48:34 No compromises in old Adventure games
49:16 Graphic/Text Hybrid Adventure games
51:09 Trial-and-error in Adventure games and the puzzles you could never solve
53:01 Wishbringer
54:05 Dave's IBM PC Junior and its sixteen (16!) colors
55:49 All the funny ways to die in the Space Quest games
56:13 Ad Spot for The God Engines by John Scalzi
57:44 John can't remember the name of a game!
59:07 The problems with old Text Adventure games and their text parsers
1:00:09 Dead ends
1:01:15 Amnesia? Or bad game design?
1:01:50 John plays Limbo
1:02:57 Erasing puzzles from your memory
1:04:00 Dave plays Machinarium
1:06:01 Quest for Glory
1:06:38 Check out Old Sierra Adventure games at www.sarien.net
1:07:13 See The Art of Sierra coffee-table book at www.artofsierra.com
1:07:38 Nick Sagan's chat-bot named "Chaos"
1:09:42 The Leisure Suit Larry series
1:10:39 Show wrap-up
Thanks for listening!
John Joseph Adams is an anthologist, a writer, and a geek. He is the bestselling editor of the anthologies By Blood We Live, Federations, The Improbable Adventures of Sherlock Holmes, The Living Dead (a World Fantasy Award finalist), Seeds of Change, andWastelands: Stories of the Apocalypse. His most recent books are The Living Dead 2 and The Way of the Wizard, and he is currently assembling several other anthologies, including Brave New Worlds and The Mad Scientist's Guide to World Domination. Barnes & Noble.com named him "the reigning king of the anthology world," and his books have been named to numerous best of the year lists. In addition to his anthology work, he worked for more than eight years as an editor at The Magazine of Fantasy & Science Fiction,and is currently the editor of Lightspeed Magazine and Fantasy Magazine.
David Barr Kirtley has published fiction in magazines such as Realms of Fantasy, Weird Tales, Lightspeed,Intergalactic Medicine Show, On Spec, and Cicada, and in anthologies such as New Voices in Science Fiction,Fantasy: The Best of the Year, and The Dragon Done It. Recently he's contributed stories to several of John's anthologies, including The Living Dead, The Living Dead 2, and The Way of the Wizard. He's attended numerous writing workshops, including Clarion, Odyssey, Viable Paradise, James Gunn's Center for the Study of Science Fiction, and Orson Scott Card's Writers Bootcamp, and he holds an MFA in screenwriting and fiction from the University of Southern California. He also teaches regularly at Alpha, a Pittsburgh-area science fiction workshop for young writers. He lives in New York.
Snownotes compiled by podtern Aidan Moher
Friend us on Facebook and follow us on Twitter. If you enjoy the show, please consider making a donation via PayPal.