Preparing for anything climate change-related is officially out at the Department of Interior.

Noted personal flag lover and helicopter commandeerer Ryan Zinke quietly issued an order just before the holidays erasing a number of climate chapters in the department and Bureau of Land Management (BLM)—which the department oversees—handbooks. Those chapters provided guidance about how the agency could reduce its impact on the land it manages and adapt to climate change in the pipeline.
What this means is that the 500 million acres of federal lands under the Department of Interior's purview now lack basic guidelines on how address the world's most important problem, as well as how to reduce the impacts of overuse. Which is stupid, but also par for the course as the Trump administration pursues a backwards fossil fuel agenda.
"They [land managers] are losing explicit authority to plan ahead, to manage at the appropriate scale, to consider multiple stressors, and to include all of the appropriate stakeholders," Joel Clement, the former head of the Department of the Interior's Policy Office, told Earther. "It is absolutely counterproductive to all of the DOI goals, except sweeping away all constraints to unfettered development."
Specifically, the new order is linked to a March 2017 directive Zinke issued to wipe out regulations that would slow fossil fuel development. The order is coming to light a day after the Trump administration moved to open nearly all offshore areas to oil and gas exploration.
But the climate policies its wipes out have little to do with oil and gas. The climate change chapter, for example, is largely about preparing public lands and infrastructure for impacts, of which there will be many. National parks like Joshua Tree and Glacier could lose their namesakes due to rising tempratures, the rising threat of megadrought could make water scarce at Interior sites across the Southwest, and sea level rise could submerge coastal swamps, marshes, roads and historic sites under the agency's purview.
G/O Media may get a commission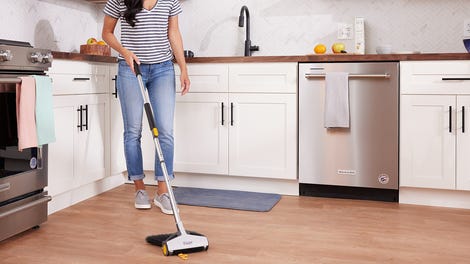 BOGO 50% Off
Flippr - BOGO 50% Off
The chapters that Zinke's deputy just killed provided no nonsense guidance like this:
"(4) Consider climate change when developing or revising management plans, setting priorities for scientific research and assessments, and making major investment decisions.

(5) Identify and avoid investments that are likely to be undermined by climate impacts, such as investing in infrastructure likely to be adversely affected by repeated floods or inundation, or planting/introducing species vulnerable to changes in temperature or precipitation patterns."
They also recommend using scenario planning, a technique used by the military to plan for multiple outcomes. Other now-eliminated Interior guidance encourages managers to consider the entire landscape when making decisions on everything from oil and gas permitting to setting aside land. The point of these documents is overwhelmingly to get people thinking about the big picture.
"These were all common-sense management approaches, so they are deleting it just because it has climate change in the title," Clement, who now works for the Stockholm Environment Institute, said. "I can't say enough about the political immaturity of these actions."
The same is true for the BLM policy guidance being killed as well. Those documents are focused on reducing the impacts of fossil fuel development on other natural resources. As the handbook non grata puts it, "mitigation is what sustains the public's land for present and future generations."
The Interior stuff is being completely wiped off the books, but the BLM policy guidance will be replaced. The order tells BLM to replace guidance that took years to create in just 30 days by updating a Bush-era document. Because the Trump administration is trying to pretend Barack Obama never existed.
The order also asks the head of the Bureau of Land Management to revisit an Obama era report on reducing the impacts of oil drilling in Alaska's National Petroleum Reserve, which could set up another showdown with environmental groups on the heels of a major oil and gas lease sale. High Country News first reported the changes and noted that the order means federal land managers are losing a centralized source of information that puts environmental laws they still have to abide by in context.

"The policies killed by the Secretarial Order capture years of best practices and lessons learned, and have already demonstrated their value in cutting permitting times and improving outcomes for communities and the environment," Alex Daue, the assistant director of The Wilderness Society's energy and climate program, told Earther. "The 2008 policy was far less detailed, and the Trump Administration's track record for systematically selling out our public lands to the fossil fuels industry shows that Interior's plan to revise the policy is highly unlikely to strengthen it."
None of the stuff in the guidance is controversial. In fact, it's good advice for how protect lands that all Americans own from negative impacts of overuse and climate change.
Despite that, it's being subverted to enrich a few fossil fuel companies.

This post has been updated with comments from Alex Daue and Joel Clement.