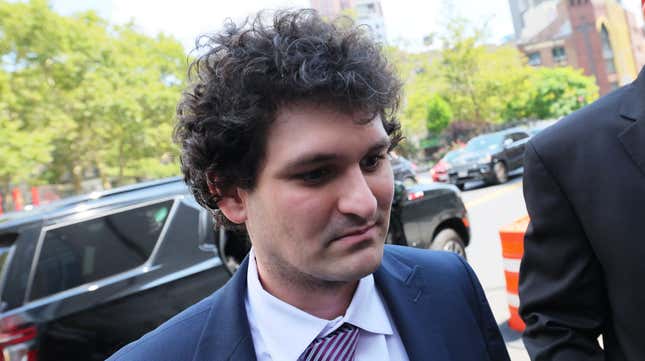 Ex-FTX CEO Sam Bankman-Fried is again being accused of campaign finance violations. This time, prosecutors say the once-crypto kingpin used other FTX execs to hide just how much of the Washington machinery he was trying to turn pro-crypto.
Will More Celebs Continue to Join Crypto? | Gizmodo Interview
The U.S. filed a superseding indictment late on Monday alleging the once-crypto kingpin embezzled around $100 million from customers' crypto accounts to fund campaign contributions to both Democrats and Republicans.
Much of these latest revised allegations retread old ground. Prosecutors have already outlined how SBF made more than 300 political donations using those customer funds. The amended indictment does outline how the once-crypto kingpin tried to conceal his donations by directing other FTX execs such as engineering director Nishad Singh to make the donations under his name. Singh pled guilty to several counts of fraud and conspiracy earlier this year. All this was an effort to promote crypto- and FTX-friendly regulation.
"By directing donations through Singh and another FTX executive, Bankman-Fried was able to evade restrictions on certain types of political contributions, and thereby maximize FTX's political influence," the indictment reads.
Overall, the indictment says Bankman-Fried, who often goes by SBF online, used "billions of dollars" in customer deposits to fund his rampant crypto investments, prop up his fledgling crypto empire, and "enrich himself." These customer funds came from Bankman-Fried's hedge fund Alameda Research, as well as from the FTX crypto exchange itself through a backdoor accessible by Alameda.
This extra indictment adds to the eight counts federal prosecutors originally filed against Bankman-Fried. The U.S. Attorney's Office for the Southern District of New York had originally made similar allegations against the ex-crypto wiz earlier this year, but the prosecutors dropped those charges last month after officials in the Bahamas—where SBF was extradited from—said they had not agreed to hand him over based on that count. Last week, U.S. officials noted in letters to the court that they planned to still hold Bankman-Fried's feet to the fire over campaign finance violations.
The amended indictment no longer includes conspiracy to violate campaign finance laws, dropping the total conspiracy and fraud counts to seven. Gizmodo reached out to FTX's attorneys for comment, but we did not immediately hear back.
Reports have noted that 1 in 3 Washington politicians received funding from SBF. Dozens of political campaigns have stated they were donating that funding to other nonprofits. Still, the bankrupt FTX has demanded those campaign donations back in an effort to make some of its creditors whole.
Bankman-Fried is set for trial in October. Last week, Judge Lewis Kaplan revoked SBF's $250 million bail and sent him back to prison. Prosecutors have alleged SBF was trying to discredit witnesses by leaking sensitive docs to the press.
---
This article is part of a developing story. Our writers and editors will be updating this page as new information is released. Please check back again in a few minutes to see the latest updates. Meanwhile, if you want more news coverage, check out our tech, science, or io9 front pages. And you can always see the most recent Gizmodo news stories at gizmodo.com/latest.