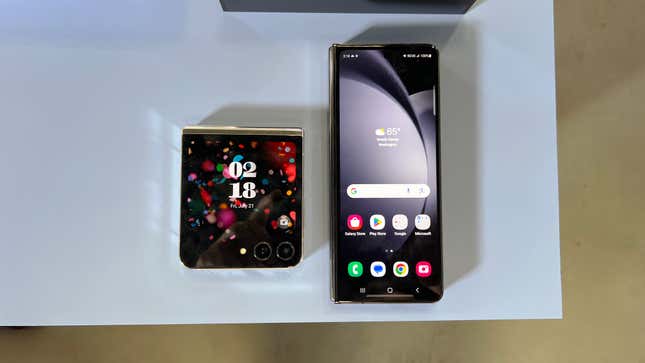 The summer of foldable phones is still going strong. Samsung announced its latest foldable smartphones Wednesday: the clamshell Galaxy Z Flip 5 and the book-like Galaxy Z Fold 5. Both devices are slight upgrades compared to the last generation's releases, though Samsung has improved the hinge on both the Flip and the Fold so that they're both flatter and thinner. The Flip also has a larger exterior screen that can be used to display widgets, apps, and cameras. If you were holding out for that bigger cover screen, the Z Flip 5 finally fits the bill.
Samsung Galaxy Flip 5: Hands-on first Impressions of Samsung's Pocket-Sized Folding Phone
As for the Z Fold 5, you're still leaping if you adopt one of these as your daily drivers. But it has added benefits: a 7.6-inch QXGA screen when folded out, an extra camera lens for macro shots, and Samsung's built-in DeX mode for getting desktop-calibur work done on the go.
That's not all Samsung unveiled. The company introduced the update to the Galaxy Watch 6 and Watch 6 Classic, and you can save some cash with a trade-in of old hardware. Curious Android tablet users might also want to check out the Galaxy Tab9 Ultra, with a 14.6-inch screen that rivals some laptops.
The Z Flip 5 is best for the foldable curious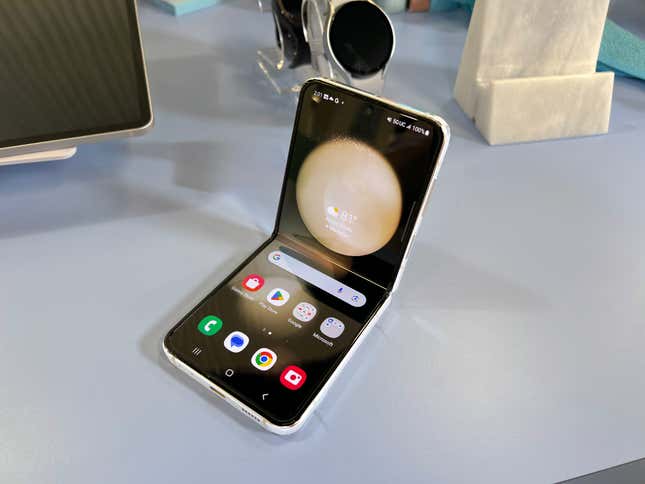 Are you into the idea of a clamshell smartphone? The $1,000 starting price for the Galaxy Z Flip 5 makes it the more approachable of the two folding devices Samsung announced. The base price gets you 256GB of storage, and it comes in various colors, including mint, graphite, cream, and lavender.
The Z Flip 5 is available for preorder at Samsung's official website, which offers additional colors like blue, gray, green, and yellow—ring, ring, banana phone! If you want to swap out last year's Z Flip 4 and its paltry cover screen for the new larger one, Samsung is offering $900 back for trade-ins. It's also honoring student discounts.
The phone officially ships Aug. 11. If you decide to go through Amazon and Best Buy for preorders, they have their deals. Amazon includes a free upgrade to 512GB storage, while both Amazon and Best Buy offer gift cards with preorders so you can bundle in a pair of headphones or a protective case.
The Z Fold 5 is for true believers in foldables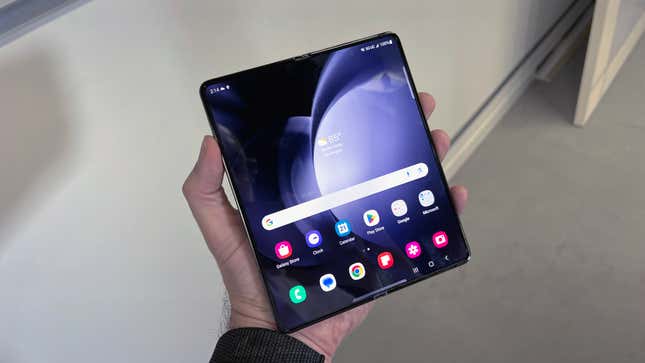 Samsung's Galaxy Z Fold 5 is not cheap. But if you decide to leap, this two-in-one type of mobile device is worth the commitment—I say this a year after testing out the Z Fold 4 as a daily driver.
The Galaxy Z Fold 5 is a slight departure from its predecessor. It does have an upgraded processor, but otherwise, things like the triple-sensor camera array and battery size remain the same. You'll have to wait for the full review before we can tell you whether or not it's worth the upgrade. For now, here's the deal: the Galaxy Z Fold 5 starts at $1,800 for the 256GB variant, but expect to pay more. The Z Fold 5 is only worth using with at least 512GB of storage space—it is a phone and a tablet in one, after all, and with that minimum, you're going to be spending at least $2,000 for the upgrade—unless you mind the preorder.
If you preorder the device, you can at least bundle in some perks. Samsung will double the storage capacity at $1,800. Amazon and Best Buy will also honor the storage upgrade and bundle in a gift card so you can outfit the pricey piece of kit with protective gear.
Should you preorder from Verizon or AT&T?
In the U.S., carriers like Verizon and AT&T offer their enticements for preordering Samsung's Z Flip 5 and Z Fold 5. Verizon offers up to $1,000 with a comparable trade-in for the devices, while AT&T will also honor the free storage upgrade. T-Mobile has its flurry of specials. You can get $500-$1,000 off if you add a line to an existing account or offer a comparable trade-in.
Overall, the Z Flip 5 and Z Fold 5 deals are consistent no matter where you buy the device. The trick is to hop on board now with a preorder, as Samsung asks you to commit before the devices have shipped.
Don't forget about the Galaxy Watch 6
I won't upgrade to a foldable this year, but I am checking out the Galaxy Watch 6 deals. The Watch 6 features the return of the rotating bezel and starts at $300 for the 40mm size and $330 for the larger 43mm model. If you want LTE connectivity, it starts at $350 for the Galaxy Watch 6.
For a more classic watch look, the Galaxy Watch 6 Classic comes in two sizes: 44mm starting at $400 and 47mm starting at $430. Both watch types have optional LTE for cellular connectivity for $50 more. Galaxy Watch 6 preorders through Samsung's official site will get up to $250 on trade-ins and a free fabric band—though it's only available in black—currently, Samsung's offering about $100 off with a trade-in of my elder Galaxy Watch 4.
Trade in your iPad for the Galaxy Tab S9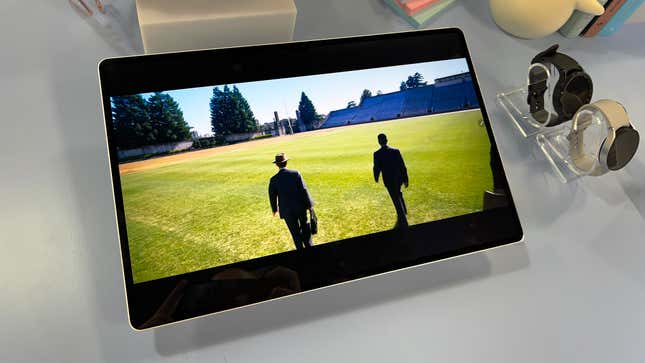 If you're looking for an Android tablet, Samsung has refreshed its tablet lineup after two years. The Galaxy Tab S9 family comes in three display sizes: 11 inches on the Tab S9, 12.4 inches on the Tab S9 Plus, and 14.6 inches on the Tab S9 Ultra—bigger than the smallest MacBook Pro. Of course, the three tablets are all running Samsung's version of the Android operating system, so it's different from a traditional laptop. But with the S Pen in tow, it could be what you're looking for from a tablet in your bag.
The Galaxy Tab S9 starts at $800 for 128GB of storage, while the Galaxy Tab S9+ starts at $1,000 with 256GB. The Galaxy Tab S9 Ultra will cost you the most, starting at $1,200 for 256GB. You can get the Ultra with up to 1TB of storage for $1,620. Samsung will give you a free upgrade on storage if you preorder and up to $650 with trade-ins—and yes, you can trade in that old, beat-up Apple iPad.