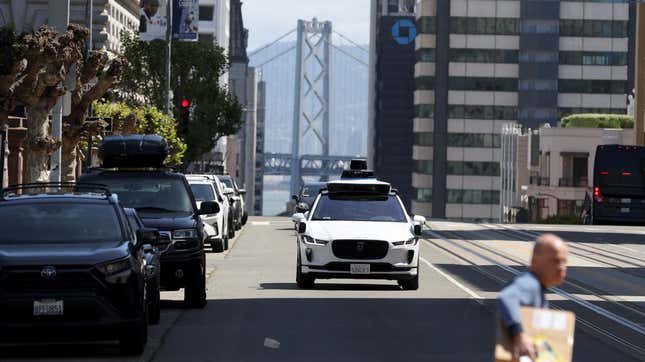 The future is nigh, but San Francisco wants to push it off just a little farther. The Bay Area city is asking California regulators to push pause on the expansion of robotaxi services from Waymo and Cruise.
Cops Pull Over Self-Driving Car
TechCrunch reports that San Francisco City Attorney David Chiu filed a motion with the California Public Utilities Commission asking the agency to halt the recent expansion of Waymo and Cruise services. Last week, CPUC approved permits for Waymo and Cruise to charge for their robotaxi services at all hours of the day without the need for a human backup driver. Chiu argues in the motion that the expanded robotaxi service will increase traffic and unplanned stops. Cruise operates 250 self-driving taxis in the city while Waymo operates 300 during the day and 100 at night, according to Axios. A CPUC spokesperson told Gizmodo in an email that the agency is currently evaluating City Attorney Chiu's request.
"We have seen that this technology is not yet ready, and poor [autonomous vehicle (AV)] performance has interfered with the life-saving operations of first responders," City Attorney Chiu said in a press release shared with Gizmodo. "San Francisco will suffer serious harms from this unfettered expansion, which outweigh whatever impacts AV companies may experience from a minimal pause in commercial deployment."
Prior to the expansion, Cruise and Waymo were able to operate in the city but at a reduced capacity. According to a CPUC press release, Cruise could charge for service between 10 p.m. and 6 a.m. without a safety drive, while Waymo could charge for passenger service at any time but only with a safety driver in the car. Waymo was also able to operate its cars completely autonomously but was unable to charge passengers for those services.
"While we do not yet have the data to judge AVs against the standard human drivers are setting, I do believe in the potential of this technology to increase safety on the roadway," CPUC Commissioner John Reynolds said in the release.
Earlier this week, a Cruise robotaxi crashed a construction site and hilariously got stuck in a patch of wet cement. Par for the course, as Cruise's self-driving taxis caused a reported 12 incidents involving San Francisco's Municipal Transport Authority between September 2022 and March 2023, including one incident in which a car came to a complete stop in front of a city bus. While most of the incidents of this nature are just serious inconveniences, some have fatal consequences. TechCrunch previously reported that a Waymo taxi hit and killed a dog in San Francisco last May.
Update August 18, 9:10 a.m. ET: This article was updated to include a press release quote from City Attorney Chiu as well as confirmation from the CPUC that the agency is evaluating the motion.