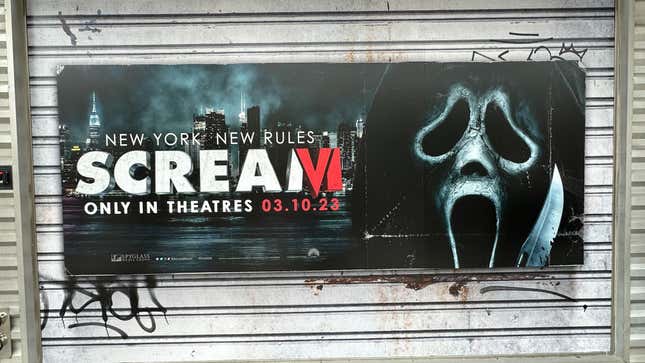 In anticipation of Scream VI, Paramount has brought a little bit of Ghostface's world to fans with two immersive experiences in Los Angeles, CA.
Pop-up eatery Chain, from The Office star B.J. Novak and Chef Tim Hollingsworth, created the "Stabby Meal"—the horror Happy Meal of our dreams, complete with a box and toy prize. This wasn't your ordinary fast-food cheeseburger, through; we feasted on a medium cheeseburger with a bone marrow-infused patty, which came with throwback fries and a handheld apple pie. The invite-only meal, served at a Hollywood secret location, features old-school kid's place seats and memorabilia—with Ghostface running around, of course. If you're in the LA area this month, there's one date left that's not yet sold out, March 18; visit eatatchain.com to get on the list, but be aware that the entry fee is a little steep for a fancy big kids meal. It's worth it if you're a themed foodie or Scream fan, though!
For some free fun frights, "The Scream Experience" at Santa Monica's 3rd Street Promenade features a chilling walkthrough activation that takes you into key scenes from the upcoming film. The immersive pop-up features practical sets—like a bodega with clever Easter eggs—to keep you amused until the next space opens up, including a simulation of a subway that transports you using projections. The way the space is used is effective in bringing you into a slice of New York carved up by Ghostface himself. The centerpiece of the experience? A trophy room filled with props from the entire Scream franchise. Tickets may be sold out online, but check back to see if any slots open up or try your luck with stand-by—the activation's first weekend accepted a lot of walk-ups. The event runs from 11am-9pm on March 4-5.
For more Scream fun from both of these events, click through io9's photo gallery!