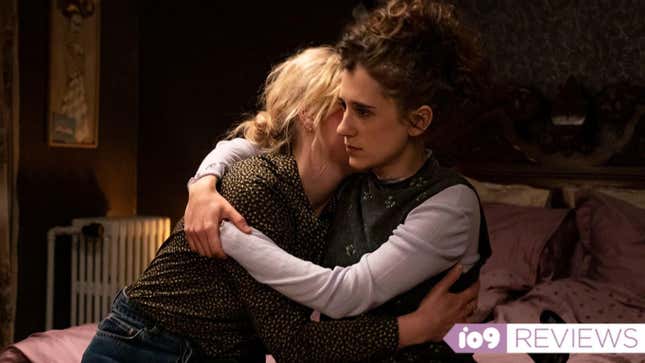 Fans of horror inspired by Jewish folklore are having a boom time between last month's The Offering and now Attachment—the latter arriving on Shudder just in time for Valentine's Day. From Denmark-based filmmaker Gabriel Bier Gislason, it's the tale of two women who fall quickly in love but soon encounter some supernatural stumbling blocks.
Deadly Mississippi Tornado Kills More Than 2 Dozen | Extreme Earth
Though it builds dread admirably, with subtle shifts in tone and a fondness for dropping in little things that seem at first like nothing—but soon add up to a whole lot of sinister something—Attachment is really about its characters. The couple at its core—Maja (Josephine Park) and Leah (Game of Thrones' Ellie Kendrick)—don't feel like people we typically meet in horror movies, and they go a long way toward elevating the film above its more familiar elements.
In fact, for its first several scenes, you might even forget Attachment is a horror movie. After a meet-cute in which the women collide in a Copenhagen library—Maja is a former children's TV star rushing to host a story session; Leah is a grad student visiting from London—it's clear there are sparks between them. Tea turns into wine turns into two bottles of wine, and their first date evolves into something deeper when Leah impulsively decides to extend her trip. So far, so adorable, but there are hints that something dark is lurking beneath the romance. Maja, who's been adrift since the death of her mother, has a sense of melancholy draped around her; in Leah, she sees a potential new purpose in life. Leah, meanwhile, is a sleepwalker who sometimes spaces out even while she's awake, to the point that she suddenly has a violent seizure that results in a serious leg injury. When Maja announces she'll accompany Leah when she returns to London, Leah barely hesitates in accepting, even though we know by now her living situation: just one floor away from her very anxious and over-protective mother.
Leah's religion is hinted at in the opening scenes—she turns down a bacon breakfast—but we don't get immersed in it until the couple arrives in the Hasidic neighborhood in London where she's lived her whole life. Her mother, Chana (Sofie Gråbøl), is delighted to see her daughter but less thrilled with Maja, and that's not a homophobic reaction. Instead, it's a phobia of an entirely different nature, as Maja begins to learn once she sees all the talismans, candles, piles of salt, protection charms, and other superstitious ephemera scattered throughout Leah's apartment, which Chana frequently enters without knocking until she's reminded not to.
G/O Media may get a commission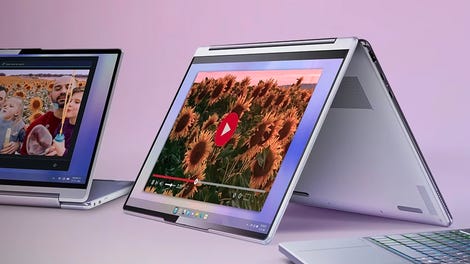 up to 70% off
Lenovo Spring Clearance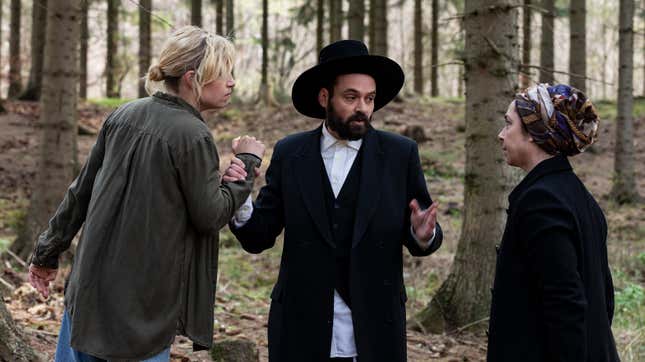 Before long, Leah's odd spells begin to get worse. Maja begins to worry that her brand-new love may be in serious peril, a suspicion inflamed when she meets Leah's Uncle Lev (David Dencik), the brother of Leah's long-absent father, who knows an awful lot about Jewish mysticism and also seems to know an awful lot about Leah and Chana that he's not comfortable sharing.
Still, Maia's status as a community outsider hardly comes into play considering all of Attachment is so insular; the drama is very intimate and focused on this small family unit. But Attachment does have a clever way of tying its characters together through language. Though their relationship is frosty, Maja and Chana—who also happens to be Danish—can converse using words Leah can't understand. Meanwhile, Lev and Chana can share secrets in Yiddish. The communication barriers echo the way Maja is blocked from knowing what's really going on with Leah; she basically starts playing occult detective, trying to decide if there's really danger afoot or if she's just being clingy and paranoid. It's difficult to know who she can trust, and Attachment does a good job of keeping the audience in the dark, too.
While we root for Maja and Leah—and even, eventually, feel sympathy for the prickly Chana—Attachment unfortunately doesn't succeed with its story as well as it does with its characters. The movie builds to a big ritual scene that's heavily foreshadowed and feels predictable once it finally arrives; even more unfortunately, Attachment is never very scary. Instead of frights, it emphasizes the complicated bonds between its characters. That's admirable, but you can't help but wish the movie had used all that emotional groundwork to springboard some well-earned freak-out moments too.
Attachment arrives on Shudder on February 9.
---
Want more io9 news? Check out when to expect the latest Marvel, Star Wars, and Star Trek releases, what's next for the DC Universe on film and TV, and everything you need to know about the future of Doctor Who.