Just hours before Snap Inc. is set to price its initial public offering, The New York Times published a humdinger of a report. According to three anonymous sources, the company is building a drone in an attempt to be "a modern-day camera company." Seems desperate.
Snap's rumored drone project, of course, would give the company a new gimmicky piece of hardware to sell, presumably to encourage consumers to use Snapchat more. If the company ever does offer it to users, the Snap drone would join Spectacles—the camera-loaded sunglasses that caused a stir when they first went on sale at cutesy vending machines across the country—in Snap's paltry hardware lineup. (Snap recently started selling Spectacles online, just in time for its IPO on Thursday.) Despite the fanfare of Spectacles, however, Snapchat user growth was almost flat by the end of last year.
So Snap has a problem: it's losing users at the same time that it's trying to woo investors. These odd hardware projects come after Facebook copied many of Snapchat's most popular features, like Stories. The scramble also comes after initial paperwork for Snap's IPO revealed that the company is losing a ton of money—over $514 million in 2016 alone. And on top of that, Snap is having trouble simply explaining its business to potential investors. The company made a 35-minute-long video about itself to show potential investors with much of that time devoted to convincing people that Snap is now a camera company, not just a silly app for teens.
The desperation is almost embarrassing. Snap seems like it's willing to do anything or say anything that might prevent its IPO from becoming one of the biggest tech industry blunders, instead of one of the major successes that founder Evan Spiegel once expected. After all, this is the same confident guy that said no to a $3 billion all-cash acquisition offer from Facebook in 2013, because he thought he could get more money for his young company. This is perhaps the exact moment, just a few months after that arrogant move, when Spiegel realized that Facebook could just steal all of his ideas anyways, and that better offer was not going to come knocking on his door:
G/O Media may get a commission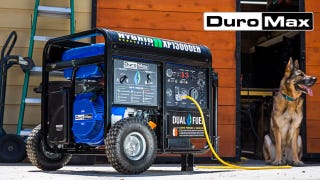 Black Friday Sale
DuroMax Generator Sale
Snap's crazy camera plans and its general IPO blunderbuss would be embarrassing if it weren't going make Spiegel and friends very, very rich. The company hopes to raise $3 billion (the irony) at a valuation of $20 to $25 billion. Spiegel will marry his former Victoria's Secret model fiancé, Miranda Kerr, and the wedding will probably be beautiful. They'll live in their $12 million Brentwood mansion with its granite countertops and elegant wainscoting. And they'll be fine.

Then again, Snap Inc. might just become the laughing stock of Wall Street this week, branding Spiegel as one of the tech industry's biggest buffoons. He'll still be rich. But history will likely remember Evan Spiegel and his precious company as the lost, desperate dreams of frat bros for generations to come.