You know you want one, but you don't know what adopting a dog will entail. How much time does it take? How much will it cost? Do you really have to touch all that poop? Here's everything you need to know.
This article is inspired by my buddies Frank Muniz and Matt Lottman. They took care of Wiley for me while I was in Hawaii last week, which was my not too subtle way of convincing them to get a dog. It worked, their adopted lab mix comes home on Saturday. Congratulations guys, I'm sure it'll be the funniest dog in Hollywood.
Should I Get A Puppy Or An Adult Dog? Your heart wants a puppy, but your head says adult dog. They're both right. Adopting a puppy gives you the ability to mold a creature in your image, to imprint him with your personality and to develop a deep, life-long connection that'll totally creep out other people. But man, do puppies require an awful lot of time and an awful lot of the dreaded poop touching, furniture chewing and rug peeing.
An adult dog will (hopefully!) be over all that, but will already have its own personality. Look at that as a good thing, when you visit the shelter to meet potential adoptees you'll know how big the dog will be (it'll already be that size!), what its fully-formed personality is like and how much energy it has. Adopting an adult dog allows you to make an informed decision that totally suits your lifestyle; do you live in an apartment and spend most of the day in an office? Adopting an adult dog allows you to choose something like a mature Beagle who will suit your employee-normative lifestyle. And yes, an adult dog is still fully capable of bonding with you in a very powerful way.
G/O Media may get a commission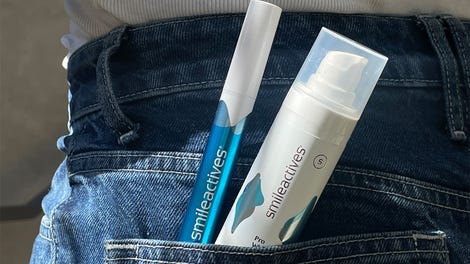 58% off
Whitening Powerhouse Pen & Gel Duo
Look at getting a puppy as analogous to having a child and the massive, long-term commitment that represents. Look at adopting an adult dog as analogous to getting a new best friend. It'll still vastly improve your life and require much attention, but it's a much more manageable commitment you can make with more information.
Rescue Dog Or Purebreed? My roommate Bret has a beautiful two-year old pedigree Weimeraner that he bought for several thousand dollars from a well-respected breeder his family has known for decades. Quasar represents the pinnacle of what's possible through selective breeding. And, Bret would agree that he's a total dick with major health and behavioral problems who gets ignored by all our friends in favor of Wiley, the ridiculously healthy and friendly pound puppy I was given for free.
This statement will prove controversial with the Best In Show types, but is based on a lifetime's experience raising animals: adopting a rescue dog is a better choice. Compared to a pure breed, a mutt will be healthier and have a better temperament. Three million dogs are killed in pounds every year in America; there is little to no moral justification for buying some fancy-looking animal rather than adopting one in need. Inbreeding is inbreeding — with all the problems that entails — whether it's dogs or the royal family. But hey, that expensive Cockapoo sure will look nice custom embroidered on an oversize sweatshirt.
A few weeks after he'd moved here from Chicago, Bret and I were up Runyon with the dogs when someone complimented Quasar. Bret looked at me and said, "finally," with a look of resignation. It'd been the first time someone had remarked on Quasar over Wiley since the move; Wiley literally stops traffic on our walks and makes several dozen new friends each day.
How Much Time Will A Dog Take? The first few weeks after you bring a puppy home are a full-time commitment. Someone always needs to be around to look after him and he'll require constant care and attention, much of which is devoted to cleaning up pee and poop. You can only leave him alone — in a crate — for short periods, if at all, and you'll be lucky to get a full night's sleep. This works best if you work from home or if the puppy is joining a household with multiple people who's schedules overlap in such a way that there's no big gap in supervision.
A freelance writer living in a house with a big, secure yard and roommates who were totally happy to help, I had an ideal situation for puppy adoption and it was still a lot of work.
Over the subsequent weeks and months, that extreme commitment grows less and less and evolves into training, exercise and just hanging out with your dog. For exercise, the formula I've heard is five minutes of out-of-the-house exercise for each month of age, twice daily, until the dog is fully grown. From that point, exercise becomes a matter of breed and lifestyle. You'll be able to get away with taking a 15-minute walk, twice daily, when the dog is three months old, but adopt a large, active breed and he'll need hours out of the house, running, walking, swimming and playing fetch each day by the time he's one-year old.
A dog should change your lifestyle, building in more activity to every day, but that doesn't mean you need to sell all your chinos and replace them with running shorts. I've adopted a There Will Be Blood style of dog parenting for Wiley and simply take him with me pretty much everywhere I go and involve him in everything I do every day. We just got back from grabbing shawarmas for lunch — 10 minutes of exercise — and he'll come along to a meeting a mile from home this afternoon for a little more. Then we'll hike Runyon of course, a daily commitment of 4.5 miles and 90 minutes with 1,500 feet of elevation gain where he can run off-leash the entire time. That's a big part of what makes Wiley so healthy, calm and well mannered. An exhausted dog is a good dog.
If you're able to integrate the dog into your life or alter your habits around the dog's needs, then the actual time commitment necessary becomes little to none with an adult dog. He just becomes a part of your life.
How Much Will A Dog Cost Me? Less than you probably fear, but doing it on the cheap while still doing it well takes a little work and creativity. When I got Wiley, I was being exploited at work while facing a mountain of medical bills after breaking most of my body parts in a big motorcycle crash. I was desperately poor, but I still made the puppy thing work, and work well.
There's an upfront cost to any dog. If you adopt from a shelter, that's in the fees. If you rescue a dog off the street or pull one off death row (where Wiley came from), there'll be vet bills and shots and spaying/neutering. You don't need to go to a fancy vet for any of this; the basic stuff is handled just as well by clinics. I used the Spay/Neuter Project of LA for Wiley. Cutting his balls off was $135 and his rabies shot was $8. Don't skip any of the initial medical stuff, it's hugely important for the puppy's long-term health and outright survival. It's a good idea to get any adopted animal into a vet for a checkup as soon as you get them, most rescues have worms at the very least. That's easily treated, but it does need to be treated right away.
Now, our monthly costs look like this:
30lbs healthiest dog food there is: $50
1 jar coconut oil: $7
2lbs organic chicken livers: $8
Monthly cost of Bayer Seresto pest collar: $6
Poop bags, toys and other Misc expenses: ~$30
Total cost of owning an awesome dog: $101/month
That's cheaper than my phone bill.
The single biggest expense in Wiley's life so far came when he got torn up by a Pit Bull when he was 6 months old. The vet wanted $250 to fix him, but I was flat broke at the time, so she did it for $125.
If you're getting a puppy, you'll need to factor in a few one-time costs like a crate, a massive amount of cleaning supplies, odor eliminating sprays, bitter apple spray to save your power cords and stuff like that. But again, none of that is terribly expensive.
How Do I Train A Dog? If you're getting a puppy, get him his shots right away, then get him out into the world and give him the widest variety of experiences possible. Stop kids on the street and ask them to play with him. Take him to bars, to parties, to barbecues and to the office. Take him for as many car rides as possible. Take him camping. Put your hands on him while he eats. Take away his food and give it back again. 8 to 12 weeks old is the most important socialization period for a puppy, when they form their relationship with the outside world. You need to get them out into it, around other dogs, other animals, other humans and around loud noises and scary things. Doing so will mean he'll be calm around all that throughout the rest of his life. The little kids things is especially important; they can be overwhelming to dogs and you really, really, really don't want your dog to bite a kid. Ask friends to bring their kids over, go to the park and find some, whatever you do, make sure you do it. Let them fuck with your puppy as much as they want, so long as it stops just shy of hurting him. He needs these experiences to gain confidence with the little fuckers.
There's much more to training a dog than I can possible cover in a single article, so instead I'm going to recommend you ignore Cesar Milan and instead read the Monks of New Skete Books. They were the biggest help in raising Wiley.
Training can get frustrating, but can also be hugely rewarding. It can also overwhelm your dog, so keep initial sessions short — no longer than five minutes — and stop any session throughout the dog's life if he loses attention. Forcing training is no good.
Like exercise, I just baked training into our day-to-day routine by carrying treats in my pockets and practicing stuff throughout walks and other activities. The general gist of it is that you need the dog to be positively motivated and focused on you at all times. Be the most interesting thing in the environment — treats — and progress the noise level of that environment over time to the point where your dog will come even when on a crowded city street or in a dog park, where there a tons of distractions. This will take months and months and months of work. A reliable recall is the single most important skill your dog can have.
You'll read a lot about positive reinforcement and it's all true, but what you won't read many places is that your dog will also need some discipline and, at times, a strong hand. As a fairly big, fairly scary beast, the cardinal sin in Wiley's life is aggression. He's absolutely not allowed to demonstrate any to any other dog or human. If he does, I grab him by his neck and throw him onto his back and, while pinned there, tell him "no" in no uncertain terms. That's if he growls or similar. If it's anything more significant, you can add a healthy smack or two upside his head to that. So long as your discipline is immediate, clear and fair, the dog will understand it. There's no point ever disciplining a dog for something he's already done, that's not how their brain works. You either catch them in the act or you don't discipline them at all.
One of the most effective tools in my behavior modification arsenal has proved to be a Super Soaker water gun. Wiley started barking at dogs and pedestrians walking past the house, a real problem since we live in central Hollywood and foot traffic is high. I bought the super soaker and started squirting him in the face as he barked. He hated it, would run around the back of the house to escape, then come creeping through it all sheepishly, looking for reassurance that I still loved him, which you have to give following any discipline. Took about three days and he hasn't had a problem barking since.
Yes, you can totally still train an adult dog. Doing so will probably actually involve a lot less frustration than trying to train a puppy.
What Should I Feed My Dog? Look at your dog's food for its ability to achieve positive health benefits in the dog's life. Doing so is way cheaper than the vet bills a long-term illness can accrue and, combined with exercise, is the most effective possible way to prevent health problems, while also leading to a happy, energetic, injury-proof animal.
And yes, that does sound an awful lot like your diet should too, just here with faster effects demonstrated in the dog. If you need convincing of how important diet is, watch a dog respond to a shift away from nasty brand-name food to something organic and grain free and you'll never eat a pre-made hamburger ever again.
In my opinion, Taste Of The Wild offers the best quality-to-price ratio out there, offering higher quality ingredients than most of the more expensive brands. It's also grain free, which is healthier for most dogs. The first ingredient in Wiley's food? Wild caught salmon; he eats better than most people. Just keep it easy and order that on Amazon Prime (free delivery will save you a fortune) or, if you want to apply original thought, go to a quality pet food store (no big chains) and read the ingredients on all the bags. You'll still end up with TotW.
I supplement Wiley with coconut oil, both in his food and topically. It's sorta a super drug for dogs. We don't live in an area with many mosquitos, so coconut oil is enough to keep pests out of his system, helps boost his energy levels, improves the health of his skin and coat and regulates his thyroid for long-term health. Sprayed on his fur, it's a great flea and tick repellant and make his coat sleek and shiny. It also works as a topical antibacterial treatment for wounds and hotspots, helping them to heal quicker.
Start by adding a teaspoon of coconut oil to each meal (just put it on top) and see how your dog reacts. It may make their poop runny. Over time, if you have a big dog, scale that up to a tablespoon. Or ramp it down if it gives Fido the runs. To spray it on, just pour it into a spray bottle from the drug store and keep that in the sun, so it stays liquid. Spray on a very, very light amount as needed.
Like many dogs, Wiley's a fussy eater, so I incentivize him with organic chicken livers. Dump those in a big pot of water, bring them to a boil, them drain them onto a baking sheet and bake them at 250 degrees until they're dry to the touch. Store them in the fridge and crumble a single liver over each meal. They're packed full of healthy fats and vitamins.
I also give Wiley table scraps — I eat as healthy as he does — but no tomatoes, onions, avocado or chocolate. He also gets a raw organic, free-range egg once or twice a week. Again, healthy fats, protein and vitamins. He won't eat the non-organic kind now, I think he can smell the difference. Oh, and no blow backs. Pot is no bueno for dogs.
All that sounds like a lot of work, but it really isn't. We order his food on Amazon once a month, it takes just a few minutes of work to make the livers and the rest just comes out of my own food supply. The result is incredible. Wiley's health is tangible; strangers remark on it on the street. Muscle-bound body builders ask what his secret is, seriously.
Poop: Yeah, there's gonna be a bunch of poop. And yeah, you're gonna have to pick it up. Don't try to reinvent the wheel, those little black poop bags work best, keep a roll in your pocket at all times or attach a dispenser to your dog's leash. I order them in bulk on Amazon.
Picking up the poop is gonna be gross for maybe the first day, then you just learn to deal with it. Use the baggie as a glove, grab a handful, turn the baggie inside out and tie it off. Carry it to the nearest trashcan. Please be a responsible dog owner, stepping in dog shit is the absolute worst.
Tips and Tricks: You'll figure all this out on your own, but let's try and make dog ownership as easy for you as possible.
Get a climbing-rated carabineer and attach it your leash. Then, when you need to tie your dog up outside a store or while picking up his poop or whatever, you just wrap the leash around a secure object like a lamp post and clip it together.
Dr. Bronner's Peppermint soap is the best dog shampoo you can use. It kills and prevents fleas and other bugs while being super healthy for your dog. Add som Epsom Salt to their bath water, it's great for their paws.
Buy your bones from the best butcher in your town. Organic, grassfed animals only. You'll be amazed at how cheap they are, especially if you have the dog in tow. Butchers love dogs. No commercial pet store bones or rawhides (made with arsenic), no bird bones and nothing small, pointy or sharp. Monitor your dog while eating bones until you're comfortable with their ability to do so. Wiley loves the leftover bones from lambchops too, and bison knuckles from the farmer's market. Store them in the freezer and give them to your dog while still frozen. Their poop will come out white and chalky the day after eating a big bone, no big deal.
Like other drivers, most other dog owners suck. If someone looks like a dickhead, their dog is probably going to be a dickhead too. Dudebro with a wife beater, saggy basketball shorts and a chin strap beard? Yeah, his pit bull's going to be aggressive.
If your dog ever gets in a fight, keep your hands out of the middle of it. If the dogs don't stop with a loud shout, kick both dogs until they stop, then separate them. It's not pretty, but it's the quickest way to bring the fight to a stop.
If a larger dog is mauling your dog, grab its back legs, swing it through the air and slam it onto the ground. Judo move courtesy Brian Lam. You should probably do the same to the owner.
Rattlesnake aversion training is more effective than the rattlesnake vaccine and doesn't involve putting poison in your dog's body. Ask your vet for a trainer in your area.
The Bayer Seresto collar is the most effective flea and tick prevention tool we've found. It has a time-release substance that works like Frontline, and also a repellent. It's cheaper than Frontline too; one $45 collar lasts eight months. Wiley hasn't had a single flea or tick on him since we started using Seresto last July.
Any dog under 50lbs is a cat, and cats are pointless. Exceptions made for Jack Russells.
The most likely way your dog will get killed is by running out into traffic. Keep them on a leash any time you're near a road and keep a firm grip on that leash. Never use one of those dumb extendable leashes; get a sturdy six-foot item. Make sure anyone else who walks him knows to be super careful around cars too.
If your dog pulls, which it will, get a walking harness. This massively reduces the force they're able to apply while also training them not to pull.
A little flashing red light worn on the collar is the best way to keep track of your dog at night if he's off leash and helps traffic see him too. All dogs should have one.
Making sure your dog is current on all his shots, doesn't have balls and is licensed registered and meets whatever red tape your city has is going to be your best shot at keeping him if the worst happens and he ever bites a kid.
Make sure he never bites a kid. For puppies, this is all socialization. If you adopt an adult dog with a behavioral issue, then it's your responsibility to only let him off leash when you're 110 percent sure there's no kids in the area.
Get your dog microchipped (usually at the same time as the puppy shots or neutering) and register him in the applicable databases in your area. Fit him with a sturdy, tight collar and put your name, cell number and the word "reward" on his tag.
If you want to be able to take your dog to bars and restaurants, start early. Wiley went out for his first dinner at eight weeks old and now he's so well behaved that he's welcome virtually anywhere.
A travel crate is the best way to transport your dog. It's safe for them and keeps your car clean.
Spray odor-eliminating spray on any accidents immediately. Pets use scent to determine where to go to the bathroom.
Spray a paper towel with Bitter Apple Spray and liberally coat any power cords with it, repeat regularly. A new Magsafe cord is like $90 and the electrical current attracts your dog.
Do you have a dog? What tips and tricks to pet ownership can you share?