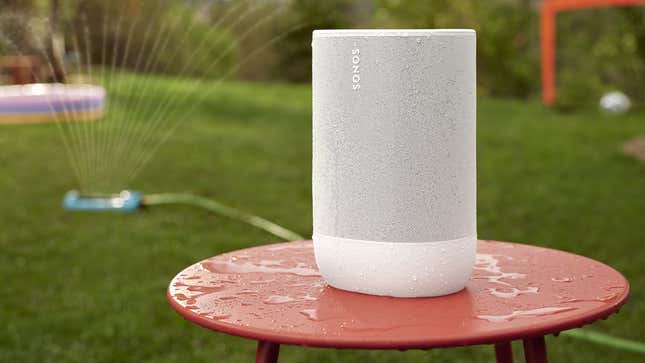 Sonos has revealed the second-gen successor of its portable Bluetooth speaker. The Sonos Move 2 arrives Sept. 20 and promises a whopping 24 hours of playback before requiring a charge.

Vizio's Latest TVs Go All Quantum
The Move 2 is already pricier out of the gate than when its predecessor launched in 2019, but its specs list makes it seem better-equipped. For $450, you get stereo sound, which the first-gen Move did not offer, and a day of playback, up from 11 hours. The Move 2 remains IP56 water and dust-resistant, so you can bring this car camping or into the backyard. Like the rest of the Sonos lineup, the Move 2 features wifi and Bluetooth and works with Sonos' voice assistant for playback controls or Amazon's Alexa for smart home commands. The speaker comes in three colors, including black, white, and a new olive tone. It's on sale later this month.
Sonos has been on a year-long journey to refresh its product lineups. Earlier this year, it launched its Apple HomePod competitor, the Sonos Era 100 and the Era 300, which we reviewed and enjoyed for its bass-forward, room-filling sound. Like the Era speakers, the Move 2 offers a USB-C port for using a 3.5mm audio source or connecting to ethernet.
The Move 2 continues with Sonos' tradition of Trueplay, which uses built-in microphones to help optimize the audio that's playing relative to the environment that it's in. In our experience, it does work—it sounds good enough that one Era 300 speaker outperformed the second-gen Apple HomePod in a stereo pair. It'll be interesting to see if the Sonos Move 2 can carry the torch and how it rivals some of the cheaper portable Bluetooth players. The upside to sticking with the Sonos ecosystem is that its app is more configurable than what Apple and even Google offer with their respective smart speaker situations.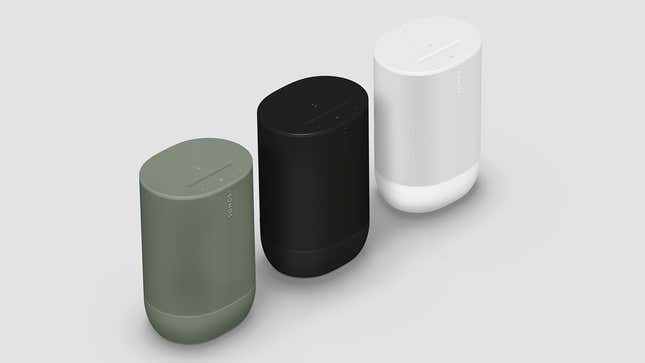 Speaking of Google, the one downside of the Sonos ecosystem is that it's limited to the Apple-using household. Sure, you can use the Sonos app with an Android device, but it doesn't offer access to Google casting, and the only third-party Sonos supports is Apple's AirPlay. It requires too many workarounds to attempt a stereo pair with Google devices, and even that doesn't guarantee access to Trueplay, the reason you'd choose Sonos over others. Sonos also doesn't support the Google Assistant.

In continuing with the relative sustainability promise of its sister products, the Move 2 has a replaceable battery, so it can be easily swapped if it's not holding a charge or for whatever other reason.