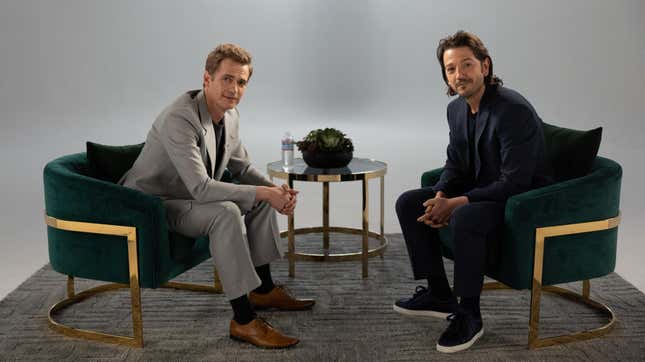 While they might be on opposite ends of the Star Wars universe, it's still surprising that Diego Luna (Cassian Andor) and Hayden Christensen (Anakin Skywalker/Darth Vader) had never met before Variety paired them for an "actors on actors" discussion. One of the things that kept coming up for both of them was the secrecy that surrounds the franchise.
Luna said that it was intense even from the start: "I was asked by my agent to meet someone for something that couldn't be said on the phone. I went into a meeting in a restaurant that was completely empty. There was a guy sitting in the corner with a computer open." The man was Rogue One director Gareth Edwards. Apparently at this point Luna had only heard a whisper from his agent that it "might be Star Wars."
The two actors commiserated about knowing their character's backstories and motivations but not being able to say anything about it. Because of the tight lid that surrounds all things Star Wars, Luna said that sometimes people take the secrecy as a challenge. "You can be in a conversation where someone is just there to get you to say something you're not supposed to say."
Christensen agreed, saying that he "likes to share things," even though he was supposed to keep his role secret. "They were like, 'You can't tell anybody'—and I got on the phone right away and I told my mom, I told my best friend." Despite his initial excitement, he said he did well during Star Wars press with keeping plot points and spoilers close to the chest. "I don't want to be the one who gives it away. You want it to be that fresh experience for the audience."
The cloak-and-dagger routine sounds rather intense, but Luna and Christensen agreed that it's not the worst thing in the world to be tasked with making sure the audience enjoys the movie. Luna mentioned that knowing too much about any film beforehand "takes a little bit magic away."
"They do a really good job of keeping the important [Star Wars] stuff secret," Christensen said. It's also fun to be in on the secret, too. Head to Variety to read their entire conversation; it's well worth it, since most of it is Christensen being an absolutely adorable fanboy over Luna while asking really keen, insightful questions about Luna's career and his perspective on Star Wars.
---
Want more io9 news? Check out when to expect the latest Marvel, Star Wars, and Star Trek releases, what's next for the DC Universe on film and TV, and everything you need to know about the future of Doctor Who.