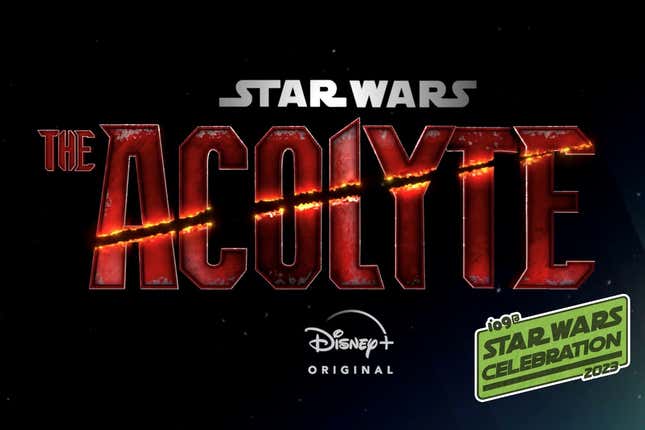 We've never known much about what to expect from Star Wars: The Acolyte, the Disney+ series from Leslye Headland (Russian Doll), other than it's set at the end of the High Republic era around 100 years before The Phantom Menace, will explore the Dark Side, and has a ridiculously talented cast. At Star Wars Celebration Europe, we learned more about this intriguing project, and saw the first footage which revealed a 2024 release.

Connecting the Series to the Prequels and Original Trilogy
Headland arrived on stage at Celebration accompanied by a Wookiee Jedi. High Republic fans quickly speculated it could be Burryaga Agaburry, however, it is not. It's a new character, Kelnacca, and he's played by Joonas Suotamo, who previously took over the role of Chewbacca from the late Peter Mayhew.
The reason Headland came out with the Wookiee Jedi is to represent the fact her show just has a lot of Jedi in it due to its time period. The Light Side of the Force is waxing, and Dark Side users are few and far between. The show is told from the perspective of one of those characters though and when Headland originally pitched it to Lucasfilm, it was described as Frozen meets Kill Bill, which is an absolutely wild combination of films.
To do that, Headland assembled a cast that includes Amandla Stenberg (The Hate U Give), Lee Jung-jae (Squid Game), Manny Jacinto (The Good Place), Carrie-Anne Moss (The Matrix), Dafne Keen (His Dark Materials), Charlie Barnett (Russian Doll), Rebecca Henderson (Inventing Anna), Dean-Charles Chapman (1917), and Jodie Turner-Smith (Queen & Slim), all of whom were on hand, with the exception of Moss.
Each could be seen in the series' brief footage, shown in the room only. It began with a group of younglings, all types of humans and aliens, being trained by a Jedi Master in bright white robes played by Lee Jung-jae. "Close your eyes. Your eyes can deceive you. We must not trust them," he says as we see a very run-down, busy village where a hooded figure walks down the street. "The Force is powerful. It's a power we must respect," the Jedi master's speech continues. Inside a bar, a Jedi is sitting, played by Carrie-Anne Moss. For some reason, the Jedi and this hooded figure, played by Stenberg, begin to fight. Stenberg's character looks like a ninja, complete with a black mask covering the bottom of their face.
The rest of the footage plays mostly in montage: We see footage inside what looks like a Jedi temple. Several younger Jedi (Keen and Barnett) sneak through tight spaces. Someone is scaling up the side of a temple. There's a scene in the snow. A Neimoidian appears. And finally, Stenberg's character says over the montage, "This isn't about good or bad. This is about power. And who is allowed to use it." The final shot is of around eight Jedi standing in the woods, with Jung-jae's character in the middle. He lights up his lightsaber, and then all the other Jedi join him, igniting their own blades of all different colors. The vibes we got were sort of a samurai movie mixed with a heist movie, but with a lot of Jedi.
The footage ended with the reveal that the show, which is in production for another few weeks, will be premiering in 2024.
MORE NEWS FROM STAR WARS CELEBRATION

Additional reporting by Germain Lussier.
---
Want more io9 news? Check out when to expect the latest Marvel, Star Wars, and Star Trek releases, what's next for the DC Universe on film and TV, and everything you need to know about the future of Doctor Who.