When a consumer genetic testing company planned to give away free DNA tests to Baltimore Ravens fans in September, the federal government intervened and prompted a last-minute cancellation. Now, a federal agency has found that the startup, Orig3n, does not have the necessary legal certification to sell genetic tests related to health.
Orig3n had planned to offer cheek swabs and genetic analysis testing for four different genes to game attendees, including one related to the body's ability to regulate vitamin D flagged as health-related by the Centers for Medicare and Medicaid Services. In a letter dated Oct. 30 sent to Orig3n, CMS identified 18 heath-related genes in Orig3n's tests that the company will either have to stop including in its testing products or seek to obtain a certificate saying that it meets what's known as the Clinical Laboratory Improvement Amendments of 1988. A CLIA certificate is something akin to an FDA approval alternative, validating not the results of a test but that the lab that produced them operated according to certain quality standards.
Orig3n sells tests that claim to assess traits related to fitness, nutrition, and beauty for as much as $149. In a response to CMS, the company argued that it was exempt from certification because it does not claim to provide health information. CMS found otherwise, responding that its tests indeed "provide genetic testing that provides information for the assessment of health." The genes the agency cited include those related to cholesterol, bone strength, sugar sensitivity, and vitamin regulation.
"To apply for CLIA certification, Orig3n must contact both the Massachusetts and California State Agencies immediately for guidance," the letter said, instructing Orig3n to seek certification in the two states where the company operates labs.
G/O Media may get a commission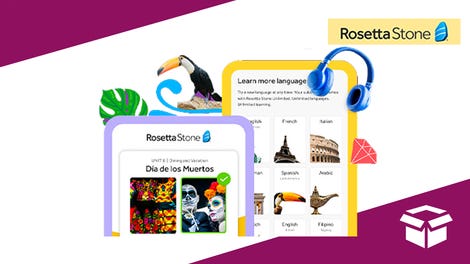 Extra 20% off
Rosetta Stone Lifetime Subscription - All Languages
Orig3n told Gizmodo that it has already removed the 18 genes in question from its products, and will continue to sell them without those select genes. The company said that it has also replaced one of the genes in its Explorer DNA product that it had planned to give away at the Ravens game.
"Once we receive CLIA certification, we will resume offering those 18 genes," company COO Kate Blanchard said in an emailed statement. "We have been pursuing CLIA certification for some time, a process that predates our recent communications with CMS."
She went on to contradict the company's assertion that its products are not intended to be used as an assessment of health.
"Orig3n is focused on advancing the future of health because we don't think the current trial-and-error approach to healthcare is enough. We believe everyone should have access to personalized care," she wrote.
And in the aftermath of the Ravens fiasco, Gizmodo has learned that Orig3n continued to give away its tests to sports fans despite the investigation into whether the company needed to seek additional certification.
After reading Gizmodo's initial story, a Celtics fan contacted Gizmodo to say that Orig3n had been at the basketball team's October 18 home game, both collecting blood samples for research and offering free cheek swabs for its DNA Explorer kit. The fan did the test and shared his results with Gizmodo. It contained one of the 18 genes blacklisted by CMS. Orig3n said results related to that gene would no longer show up online for those that have already done the test.
Since CMS had not yet determined which genes fall under CLIA regulation (or if any of them did) it is not clear whether Orig3n was actually in violation of any rules or requests. But after the Ravens giveaway was cancelled pending investigation into the company's tests, it seems at minimum very strange that it continued giving the tests away at other games.
In the end, this will all likely wind up written off as a relatively minor regulatory snafu. But the attention it has attracted—the Ravens story found its way into the Washington Post, ESPN and the Baltimore Sun, among others—seems indicative of a growing suspicion of consumer DNA testing. Experts have already raised concerns about the dubious nature of genetics tests that claim to assess traits like athleticism. (Gizmodo tried out Orig3n's tests, and found the results were basically worthless.) They have also cited concerns over the privacy policies that govern such tests. Orig3n's current privacy policy, for example, says that once you have consented to use of your genetic information, you cannot revoke that consent ever, granting Orig3n the right to use your genetic information whenever and wherever it sees fit.
Typically, the FDA has shied away from exercising regulatory authority over tests that do not directly indicate risk of disease. CMS' actions, though, may be an indication that other consumer testing companies may also face the wrath of regulatory scrutiny in the future.