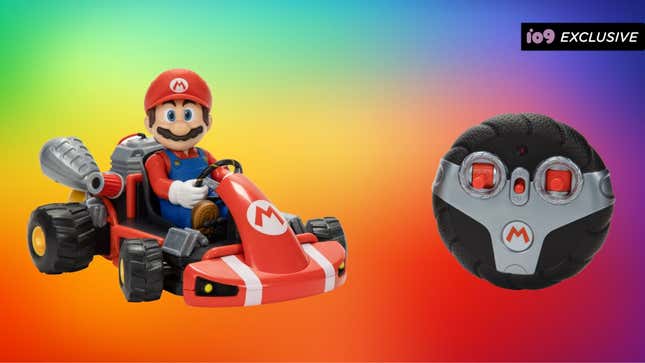 At this weekend's WonderCon 2023, JAKKS Pacific will host a panel to reveal its line for The Super Mario Bros. Movie. io9 got an exclusive sneak peek of the iconic Mario Kart, inspired by Nintendo and Illumination's new animated adaptation, which will be part of JAKKS Pacific's 2023 toy and collectible releases.
With a Bullet Bill range of 100 feet, this full-function 2.4GHz R/C comes with bells and whistles like tail pipes lighting up and some rumble, but no shells or Bob-ombs. Mario's head moves when the vehicle turns, but alas there's no Chris Pratt voice telling you to "Let's-a-go!"—that'll be all you.
The Super Mario Bros. Movie Rumble R/C Kart Racer will officially transport from the Mushroom Kingdom to our world during its debut at the WonderCon panel on Friday, March 24. If you're attending the convention in Anaheim, California this weekend, you won't want to miss it, as word has it guests in attendance will receive a big surprise. Check it out from 5-6 pm in Room 213CD—and for those who can't make it, JAKKS will on livestream the panel here . For more information, you can follow the brand on Instagram (@Jakkspacific.toys).
Check out this gallery for the official first look!