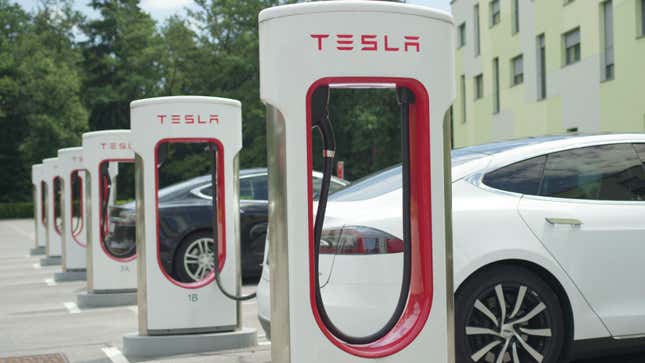 Tesla, General Motors, Ford, and other auto manufacturers are stepping up their electric vehicle charging game to receive federal funding. The Department of Transportation announced new standards on Wednesday that stipulate EV chargers must meet certain made-in-the-U.S. criteria, as well as be useable across vehicle makes in order to be eligible for the billions in funds allotted through the Bipartisan Infrastructure Law.

"Effective immediately, all EV chargers funded through the Bipartisan Infrastructure Law must be built in the United States," wrote the White House in its statement. Plus, "the new standards will ensure everyone can use the network – no matter what car you drive or which state you charge in," the Biden Administration added.
In broad strokes, the Department of Transportation is hoping to to get half a million EV chargers built nationwide by 2030—about ten times the number of stations currently in place, according to Pew Trusts. The agency is also aiming to "electrify" more than 75,000 miles of highway across the U.S. in that same time period—all while boosting American manufacturing and encouraging a home-grown EV-revolution.
Specifically, from the press statement:

Effective immediately, all EV chargers funded through the Bipartisan Infrastructure Law must be built in the United States. The plan requires that, effective immediately, final assembly and all manufacturing processes for any iron or steel charger enclosures or housing occur in the United States. By July 2024, at least 55 percent of the cost of all components will need to be manufactured domestically as well;
In addition to the domestic production rules, the new standards will require that charging is "a predictable and reliable experience," with consistent plug types and power levels, and charges functioning at least 97% of the time. Further, the DOT has declared that chargers should be easily findable and that drivers won't have to use multiple different apps or accounts to use chargers.
Through the promise of federal investment (and the corresponding threat of losing that funding source), the Biden Administration has gotten Tesla—the U.S.'s biggest EV and charger company—to agree to open its "U.S. Supercharger" and "Destination Charger" networks to non-Tesla vehicles. Up until now, although the company's basic chargers are non-proprietary, Tesla's high-speed chargers have only been available for use by Tesla vehicles, and no adaptors have been available on the market. Now, that will have to change.
The company has until the end of 2024 to retrofit or newly install at least 7,500 chargers useable by all EVs. These chargers will include at least 3,500 250 kW Superchargers along major highway corridors. Plus, the EV manufacturer will have to double the number of chargers it manufactures domestically, in Buffalo, New York, the White House has declared. 
Worth noting: Though Tesla CEO Elon Musk has repeatedly bashed government subsidies, Tesla's revenue lives and dies by them. The company has sold at least $6 billion in federally-backed EV credits, according to a report from Grid News. 
That said, many other companies besides Tesla are also chasing that sweet federal investment, and have agreed to certain stipulations from the Department of Transportation. Ford, for instance, has said it will install public fast chargers at nearly 2,000 of its dealerships by January 2024. General Motors has promised up to 40,000 public Level 2 EV chargers by 2026—an expansion on the companies' previously announced plans. Rental car company Hertz pledged to make one-quarter of its fleet electric by the end of next year and to install EV chargers at its locations in more than 12 major cities. 
All in all, it's further evidence that the Biden Administration is banking big on electric vehicles as the way forward to combat climate change (and to simultaneously address the common conservative critique of U.S. foreign energy dependence).
There's no doubt that electric vehicles are important useful technology, currently experiencing a rapid period of innovation. But it's worth remembering that EVs also come with their fair share of problems—from issues of accessibility to the environmental and human consequences and limitations of finding all the lithium and other resources necessary to swap out every gas guzzling car with an electric replacement.
Electric vehicles can be a great climate and environmental boon if deployed correctly. But maybe we should think twice before making 'personal EVs for all' our national policy, when options like electrified mass transit and walkable communities exist.