In case you couldn't tell, we at Gizmodo love to eat. We do it every day! And we write about it sometimes too. Here's the best stuff we wrote about edibles in 2010.
1. San Francisco Bans Happy Meals
San Francisco has done the unthinkable. Not win the World Series. It's effectively banned happy meals.



G/O Media may get a commission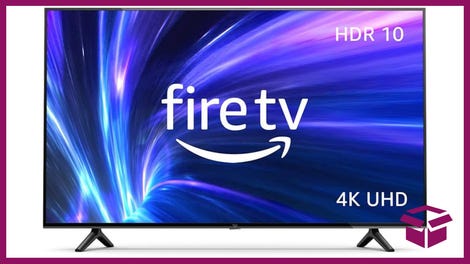 42% Off
Amazon Fire TV 50" 4K Smart TV
2. This Modernist Gingerbread House Puts All Others to Shame (So Make Your Own!)
It might be time to take your holiday gingerbread domicile out of the 19th century. If so, check out Hometta's inspiring cookie-fied Wedge House. It looks fantastic, and will immediately shut up any architecture snobs you're expecting for Christmas dinner.



3. Spoonachos Are The Holy Grail of Chips
The Tostitos Scoop was a momentous moment in the history of dipping. But it has one glaring flaw: your thumb takes up half the scoop. Spoonachos, however, have a handle. Brilliant. My salsa to chip ratio just got WAY better.



4. A Mini Donut Factory That Fits On Your Desk
Yes, donuts are meant to be deep-fried, but who cares about that little technicality when you can make six itty-bitty bite-sized donuts at once, right on the corner of your desk!



5. The World's Largest Gummy Worm Is Wrong On So Many Levels
It's 26 inches long. It has a 5 inch girth. It has a ribbed body, and weighs in at 3 lbs. It's the World's Largest Gummy Worm, and I feel dirty watching this guy try to eat it.



6. Video: Six Months of the Everlasting Happy Meal
Sally Davies bought a McDonald's Happy Meal on April 26, 2010. She placed it on her coffee table, uncovered, and took photos every day for six months. This video shows the results, which are quite scary.



7. Behind the Chicken Goop: The Truth and Science of Chicken Nuggets
The twisting pink mass that looks like frozen yogurt infected with ectoplasm might look disgusting. It might be mechanically separated chicken, chicken nuggets in their primordial form. And it is perfectly okay to eat



8. Turning Welch's Into Wine In 48 Hours
I'm taking the last sip of home-brewed purple liquid. It's sweet yet balanced, fizzy yet quenching, smooth yet these words look a bit blurry. It tastes like a dangerously well-mixed drink. And just 48 short hours ago, it was Welch's



9. 10 Teched-Out Techniques for Saving Food
Hey America: You waste almost 40 percent of the food you produce. WTF? Sure, you can address that by making behavioral changes, but, uhm... boring! Fortunately, we can fix this. With gear.



10. Canned Beer Is The Future of Good Beer
America makes some of the world's finest beers. And now those beers are getting the conveyance they deserve-cans.


Been under a rock? See what else happened this year in our Best of 2010 series.