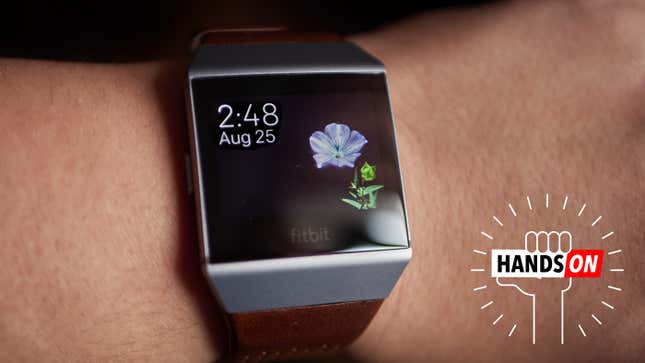 After months of leaks and hints, Fibit has finally revealed its newest wrist wearable: The $300 Fitbit Ionic. Fitbit claims up to four days of battery life, a refined OS that pairs nicely with devices running iOS, Android, and Windows, and a brand new sensor for tracking your heart rate. This smartwatch, which visually calls to mind the lovechild of an Apple Watch and a Fitbit Surge, is a natural progression for the huge wearable company. Just last year, it snapped up notable smartwatch makers Pebble and Vector for a reported $38 million. And between the almost-perfect Surge and the incredibly unattractive Blaze, Fitbit has been interested in the smartwatch sector of the wearable market for a while. This is the culmination of that interest. It's profoundly ugly—like every Fitbit that's come before, but it could be technologically cool enough that you might not care.
Boogeyman's Director Talks Working on Bigger Budget Horror
A smartwatch, even an unattractive one, makes sense for Fitbit right now. According to IDC, Fitbit's market share plummeted over the last year leading the former number one wearable brand to drop to third place in market share behind Apple and Chinese tech titan Xiaomi. While you won't find a Xiaomi fitness tracker or smartwatch on many wrists in America, you will find the Apple Watch. Here in New York, I see a few on wrists every single day as I commute into work. Yet, while Fitbit has seen its marketshare shrink, the company still claims to have over 50 million registered users and over 67 million devices in the wild. It's down, but not out, and clearly hopes that the Ionic will help turn things around.
When it comes to style it can't hope to beat Google and its myriad of partners in the fashion world. It's big bezel and sharp angles can't even beat the gentle curves of an Apple Watch. The Apple Watch, by virtue of being Apple-made, is something of a fashion accessory now. The Ionic will likely be too big and square to accomplish the same feat. So one way Fitbit is hoping to distinguish itself is by focusing on what it does best: Fitness. To that end. Fitbit claims it's built an incredible accurate new heartrate sensor. The current Fitbits use its PurePulse system which is an optical heartrate sensor using green lights that rapidly flash across the skin allowing and sensor to detect the pulse of a person's blood flow. This is the de facto method for detecting the heartrate on the wrist.

With the Ionic, Fitbit is introduces a new "triwave color sensor" that uses a combination of red, green, and infrared lights to detect bloodflow. How well it detects it, and whether it is more accurate than previous Fitbit devices or the Apple Watch remains to be seen.
For the fitness focused, the Ionic is also water resistant up to 50 meters, can track your movements via GPS, has swappable bands so you don't have to look like a gym goober all day, and can automatically detect when you exercise and when you stop exercising—useful if you jog with a dog.
And with a claimed four days of battery life, it could certainly do that. Battery life has long been one of the things holding smartwatches back from more widespread adoption. They can handle a day of constant use, but generally crap out early into day two. Meanwhile, the Ionic loaner Fitbit provided us on Thursday, which is running an early build of the software and nowhere near representative of the final product, was at 51 percent right now. That's more than three days of wear, whilst constantly checking my heart rate, and more importantly, polling my phone for notifications.

Over the last few years, Fitbit has gotten pretty good at delivering notifications to your wrist, but it's just not as good at it as wristables running watchOS or Android Wear. The Ionic could, potentially, change that. It allows for call, text, and calendar notifications. Theoretically, it can handle notifications from other apps as well, and I managed to get it to work with three of the other apps on my phone.
Besides notifications (and the option for different watch faces) another big smartwatch must the Ionic has is an NFC chip for cardless payments at retailers. At launch it is expected to work with Mastercard, Visa, and American Express—though Fitbit insists its working with banks for better interoperability.

But the best smartwatch feature coming to a Fitbit device are apps. Fitbit is going to launch a gallery where developers can add their own apps and watch faces for anyone to download. Apps will be subject to a review process and coded using Javascript and SVR. They're expected to be designed in Fitbit Studio, a new web-based tool, similar to the one the defunct Pebble used to rapidly build a library of apps. In fact Tomas Sarlandie, Fitbit's Software Engineering Director, told journalists at a recent briefing that Studio had already been seeded to select former Pebble developers in the hopes that they'd develop for the new Fitbit OS platform.
And Fitbit had better cross its fingers they do, because at launch there will be exactly four non-Fitbit apps available on the Ionic: a Starbucks, Accuweather, cycling app Strava, and Pandora. Those are meager options, but the Pandora one could be nifty, as it will allow you to take Pandora offline and onto the watch's 2.5GB of storage space (provided you have a Plus or Premium Pandora account).

There's no Spotify, or Google or Apple Music, so if you don't want to listen to Pandora you'll need to side load your own music. All of it will play via Bluetooth headphones, including the pair Fitbit itself is launching around the same time. The Fitbit Flyer are wireless Bluetooth headphones that Fitbit claims have six hours of playtime in them, compatibility with all available digital assistants, audio prompts for connectivity and battery life, and a small selection of wings, tips, and fins to help you find a better fit.
The Fitbit Flyer wireless earbuds will retail for $130, while the Fitbit Ionic will retail for a whopping $300. That's not a super competitive price, but it's cheaper than the better looking watches on Android Wear and priced the same as the super successful Apple Watch—which is rumored to have its own update coming in September. The Fitbit Ionic starts shipping in October 2017, but we'll have our own review in the coming weeks once the software on the device has been finalized and we've had a chance to get to know this great sounding hardware packed in an unfortunate-looking body.