While you may take for granted the basic pack of fonts that came with your word processing software, someone had to invent each and every one of those fonts. And while some common fonts were invented after the advent of the computer, others are centuries old.
Above: An example of the memetic use of Impact, which is a default font on Windows since Windows 98.
Garamond
Garamond was named after a punch-cutter named Claude Garamond, who used an early version of the font in a book published in 1530. But the work of the early 17th century engraver Jean Jannon was also needed to create the font that we know as Garamond. The most widely known modern fonts based on their designs are Adobe Garamond (Robert Slimbach for Adobe, 1989) and ITC Garamond (Tony Stan, 1975).
G/O Media may get a commission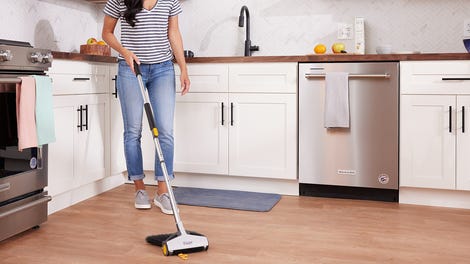 BOGO 50% Off
Flippr - BOGO 50% Off
(via The Atlantic and The Guardian)
Caslon
Caslon was designed by William Caslon I (1692-1766) after 1734. The widely used digital variant named Adobe Caslon was designed by Carol Twombly in 1990.
(via Jacob Dean King)
Baskerville
Baskerville was designed by John Baskerville in 1757.
(via Government of Canada)
Didot
This font was based on the works of Pierre Didot between 1783 and 1811, and was successfully adapted to modern devices by Adrian Frutiger for the Linotype foundry in 1991.
(via Ivan Pucic/Behance)
Copperplate Gothic
Copperplate Gothic was designed by Frederic W. Goudy in 1901, and released by the American Type Founders.
Franklin Gothic
Franklin Gothic was originally designed by Morris Fuller Benton in 1902-1903 for American Type Founders.
(via Jonathan Morris)
Gill Sans
This was the work of Eric Gill aand first appeared over a window of a bookshop in Bristol, England in 1926. It was released two years later.
(via Penguin Books and Digital Poster Collection)
Futura
Futura was designed by Paul Renner in 1927 for the New Frankfurt project, and was commercially released in 1936.
This is the font used on some classic Doctor Who DVD covers and IKEA also used it until 2009.
(via Matthew Rutledge)
Times New Roman
It was designed, appropriately, for The Times in 1931, by Victor Lardent at Monotype.
Palatino
The original Palatino was designed by the legendary Hermann Zapf, released by the Linotype foundry in 1948.
Courier
The original Courier was designed by Howard Kettler in 1955, later redrawn by Adrian Frutiger for the IBM Selectric typewriters. It was the U.S. State Department's standard typeface until January 2004.
Impact
Impact was designed by Geoffrey Lee in 1965 for Stephenson Blake, a Sheffield-based engineering company. Now it's used as the ultimate meme font.
(via FunnyStack)
Helvetica
Helvetica was developed by Max Miedinger and Eduard Hoffmann for Haas Type Foundry in 1957. Helvetica Neue was introduced in 1983, and was developed at a Linotype subsidiary.
(via Webcronic)
Arial
Arial fonts were designed by a ten-person team in 1982, led by Patricia Saunders and Robin Nicholas, for Monotype Typography.
(via Caren Litherland)
Chicago
Chicago was designed by Susan Kare in 1984, and used as the Macintosh user interface font until 1997.
(via Wikimedia Commons)
Lucida Sans
Lucida Sans was designed in 1985 by Charles Bigelow and Kris Holmes.
(via Mafalda de Lancastre David/Behance)
Comic Sans
Comic Sans was designed by Vincent Connare in 1994 for Microsoft. You have him to thank.
(via James Ward)