LEIDEN, NETHERLANDS—At the 2018 Pyeongchang Winter Olympics, the speed skating rink is a familiar orange blur. The Dutch are dominating the long track again, coming off their record-breaking performance at Sochi 2014 where they won 23 out of 36 available medals, including eight out of 12 first place finishes.
After sweeping the podium in the women's 3000m last week, Dutch fans in the stadium taunted President Donald Trump's "America First" slogan with a banner that read, "Sorry Mr President...the Netherlands first, and second, and third!"
These taunts signal more than just friendly competition. Skating is imperiled by climate change, which is bringing warmer winters that prevent the ice from forming as it once did. This year, skating enthusiasts in the Netherlands are especially upset with Trump over his decision to withdraw the U.S. from the Paris Climate Agreement, thus further endangering the sport they hold most dear.
NBC host Katie Couric may have been widely mocked for crediting Dutch success on the ice to skating being "an important mode of transport" along Amsterdam's frozen canals, but her comments weren't so much wrong as they were out of date.
As far back as the 13th century, the Dutch attached metal blades to wooden planks so messengers could skate along canals to deliver information from one village to the next. Skating soon evolved into the national pastime, as Dutch as Gouda cheese and windmills. But not anymore—the climate change-linked warmer winters of recent decades are leaving locals hungering for the feel of natural ice beneath their skates.
G/O Media may get a commission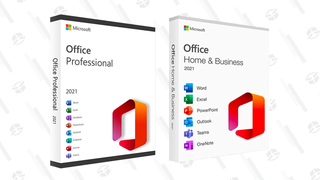 89% off
Microsoft Office Professional 2021 Lifetime License
In the Dutch city of Leiden, the local city council has resorted to installing a temporary floating ice rink upon the canals that no longer freeze.
Petra Hoogeveen, 64, volunteers at the track to try and give Dutch children a sense of the experience she enjoyed when she was younger. Hoogeveen told Earther she used to be able to skate across town to visit her mother's house every winter, but these days there is only skateable ice once a decade, if that.
She pities young Netherlanders for having to navigate around a cramped rink, instead of racing along canals and rivers for miles on end.
"The real ice is frozen from above, and is like gliding across a smooth mirror," she said. "This fake stuff in the rink is frozen from below, and it's like skating on snow."
One local who doesn't bother with the floating rink, or any artificial track, is 70-year-old retired naturopath Jan van Waning.
"You just circle around in the same direction," he told Earther. "Imagine you have a sailing boat and you try and sail inside a building with no wind—that's no fun. But skating through nature with hundreds of thousands of people out in the sun or the fog? Really, it's a miracle. It gives a feeling of togetherness; you feel together."
Not since 1997 has there been sufficient ice to stage Leiden's Elfstegentocht (eleven alley tour), or the larger, more iconic Elfstedentocht (eleven cities tour), which features thousands of skaters racing 125 miles across frozen waterways connecting eleven villages.
The larger Elfstedentocht is situated in the colder northern province of Friesland, yet even there the ice is no good any more. Every winter the Dutch hold their collective breaths for the return of this legendary competition.
The last time conditions were close to good enough was the winter of 2012, when local media went into overdrive reporting on weather conditions, hotels in the region of the race were booked up, and the Dutch Government went so far as to mobilize the military to nurture the ice to the required six inches of depth. They failed.
A tradition for centuries, formal records for the Elfstedentocht have been kept for the last 108 years. The event went ahead 12 times in the first 54 years, but just three times over the last 54 years.
Dr. Hans Visser of the Netherlands Environmental Assessment Agency saw the national angst around the Elfstedentocht as an opportunity to raise awareness about climate change. He co-authored a study that projected the race would, in the future, be held only once every 18 to 183 years, depending on future global carbon emissions.
The response to his work was overwhelming, with so many demands for media interviews that Visser told Earther he refused to keep granting them: "We were afraid the Netherlands Environmental Assessment Agency would be interpreted as a kind of sporting institute, which we aren't."
Visser said rising temperatures are the main factor impacting ice formation, but that other alterations in climate are also relevant, such as changing winds and snowfall.
The study was based on earlier research that found that for every additional degree Celsius (1.6 degrees Fahrenheit) rise in average winter temperatures in the Netherlands, maximum ice thickness decreased by roughly 2.13 inches.
Pieter Clausing, sports participation manager at the Dutch skating federation KNSB, told Earther that when sufficient natural ice forms, roughly a quarter of all Dutch people go skating, many of whom don't otherwise skate. The cost of entry or membership fees for artificial rinks are one reason many only skate when there is natural ice.
"Of course for people who are really poor it can be a problem; artificial ice is expensive to make, and especially if you want to go twice a week, well, it is not for free," he said. "We've had five winters now with very little natural ice, which means five winters that children aged nine to 11 haven't had that experience in their lives. They were too young to do it the last time it froze over. That's a whole generation coming through who've never skated on natural ice."

Clausing said he hopes the fantastic Olympics that the Dutch are having will inspire children to go out and skate and "do what their heroes do" once the ice does come.

The loss of natural ice hasn't just disrupted the Dutch skating tradition—it's also an ominous reminder of what else climate change promises to bring to this country of waterlogged lowlands.
More than a quarter of the Dutch population already lives below sea level, and with the latest projections indicating oceans could rise 26 inches by 2100, the Netherlands is setting aside tens billions of dollars to upgrade its flood defenses.
Back at Leiden's floating ice rink, Hoogeveen is acutely aware that the loss of ice is a symptom of something greater.
"I don't feel good about these warm winters," she said, watching the children struggle through the slush of the track.
"Change can be a good thing, but this change is bad news. First the ice goes, then what?"
Max Opray is a freelance journalist. You can follow him @maxopray