If you think the posters Mondo releases are cool, wait until you see the ones they can't. For every poster that makes it to print, several alternate versions are canceled, for a slew of different reasons. Once a year, Mondo pulls back the curtain on its most beautiful failures.

Mondo is the poster and collectable brand of Alamo Drafthouse. In the past several years, it's turned into a pop culture art authority, developing an ardent following by releasing posters, vinyls, and toys every week. Last weekend, the second annual Mondocon took place.
One of the highlights (besides all the posters) was a panel called "Mondo Talk," which offers a peak into the company's editorial process. For 45 minutes, co-founders Mitch Putnam and Rob Jones joined fellow creative director Jay Shaw and head of creative production Eric Garza, to take fans through a slew of projects they tried to do, but couldn't. They then offered the fans in attendance the chance to pick which version of a poster they would release. The James Bond art you see at the top of this post is art for Skyfall by Martin Ansin that never saw the light of day. Mondo was trying to do a vinyl release of the film's score (not a poster) but the Bond people didn't like the original art, suggesting instead they use the approved photos. Mondo declined.
Here are some of the other highlights.
G/O Media may get a commission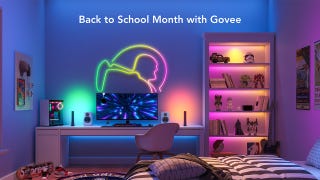 Back to School
Back to School Month with Govee Sale
For Spider-Man, Mondo asked JC Richard to do a poster of the death of Gwen Stacy. The first pass is what you see above: awesome, but a bit too gruesome.
That second alt version of Gwen Stacy's death is more subtle. Unfortunately, they could just never get right.
The artist team Elvisdead did this insane piece for The Dark Knight and, despite the fact the Joker's eating a bat sandwich, it was just never going to get approved.

Todd Slater's Toy Story 2 poster would've seen the light of day, but the timing didn't work out, and Mondo lost the license to make official Disney posters.

Mondo has the license for the popular game character Shovel Knight but the rights holders didn't think this version of the character, by Jason Edmiston, fit the franchise. So it was killed.
Mondo showed two early versions of Tyler Stout Goonies poster, with different colors.
Above, you can see the blue marks where Warner Bros. wanted changes. No cars at the bottom, no guns, no Raiders logo, different Josh Brolin face, etc. However, everyone involved agreed all these things improved the poster.

There are dozens of Pacific Rim art prints out there, but what you see above isn't one of them. After a long phone conversation with director Guillermo del Toro, artist JC Richard was told the poster simply "didn't give [Del Toro] a boner."
Stan and Vince released one gorgeous War of the Worlds poster for Mondo but, the downside was, they also sketched out three other amazing concepts, all of which simply got killed. Two above, two below.
Finally, the Mondo team put the fate of a few upcoming posters, all by Jonathan Burton, in the hands of the fans. Fans were asked which of these two below Frankenstein concepts they liked most:
The crowd voted for the first one. Surprise surprise, Mondo had already chosen that one. What a ruse!
Then, the audience was given three different options for Burton's King Kong.
Fans were split between the second and third posters, so Putnam and Jones agreed to create them both. So, unfortunately, you won't get to put Kong's ass on your wall anytime soon.
---
Contact the author at germain@io9.com.