Hype and superhero movies go hand in hand. Fans eagerly anticipate every tiny piece of information about these films to a point where it's become almost comical. Months and months before release, we're dissecting every little detail, building up anticipation and expectations to a level that's rarely achieved. But, for some reason, that didn't happen in the same way with Spider-Man: Into the Spider-Verse.
Admit it. When you first heard Sony was making what was then just an untitled animated Spider-Man movie, you were skeptical. Animation is great, Spider-Man is great, and sure that combination could be cool. But who among us put it on a pedestal along with other highly-anticipated movies such as Black Panther, Avengers: Infinity War or Aquaman? Not many. Because, honestly, how could an animated superhero movie compete with a live-action one?
Turns out Spider-Man: Into the Spider-Verse not only can, it does. Though it's still a few days from release, Spider-Man: Into the Spider-Verse is almost certainly going to be in the conversation of best superhero movies once audiences see it. And while those kinds of statements may create some hype now, it's hype that came much, much later in the game compared to most other superhero movies. Which was fine by everyone involved.
"We were in this weird position of 'Wow, we're working on a Spider-Man story but we're kind of an underdog, which was a weird paradox," co-director Peter Ramsey told io9.
G/O Media may get a commission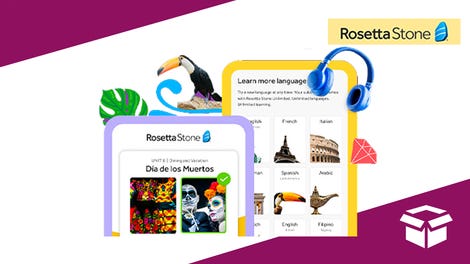 Extra 20% off
Rosetta Stone Lifetime Subscription - All Languages
"I think people had really low expectations for this," added co-director Bob Persichett. "Like If you just read 'Animated Spider-Man film,' you're like 'Ehhh. Meh.' And those 'Mehs' became motivation. 'Oh yeah? We'll show you.'"
And show us they did, making a movie that not only acknowledges the over-abundance of superhero films, but uses that to its advantage to tell a story that invents an original approach to the genre. Plus, it does so with a unique CG/hand-drawn animated hybrid that took 18 months to achieve and then a week to do each and every second.
"It took me seeing it to fully get it," Jake Johnson, the voice of Peter Parker, told io9. "But their plan was not 'We're just making an animated movie.' Their plan was 'This has to change the game. We have to compete with those other movies or why are we doing it?' So as just an actor. It was like, 'Great. I hope that happens' but...they did it. Now, we hope people take to it, but they did what they wanted to do."
"Yeah, we certainly made the movie wanting the widest audience possible," added co-director Rodney Rothman. "Wanting to give that audience a different, cool experience only we can give them. That was the goal. Always."
"It's a Marvel movie," added Persichett. "And coming out the same year as Infinity War? You want to find your own place and you want to be as respected as that movie was."
Maybe it wasn't a few months ago but, come December 14, it will be.