This week in the unseasonably entertaining App Store: Another bizarrely amazing music app; free turn-by-turn directions of questionable reliability; a fat man on a tightrope; an interesting take on the classic-est of classics; and a treat for our dear developers.
Pac-Mac Remix: This is an official, sanctioned Pac-Man remake, and accordingly a pretty good one. Purists might be turned off by the 3D graphics, but the gameplay hasn't really changed; in fact, using finger flicks to change direction is a brilliant way to control Pac-Man. For $6, as is, this is good; for $2—even if that would mean losing the flashy production—it would kill.

G/O Media may get a commission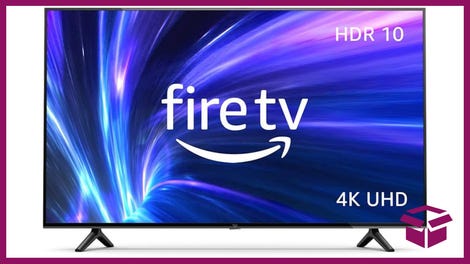 42% Off
Amazon Fire TV 50" 4K Smart TV
Mujik: An instrument-slash-synthesizer made of books, flies, cardboard and whimsy. It takes about five minutes to figure out what the hell is going on with Mujik, but once you do, it's beautiful, and the musical possibilities are tremendous. This is as good as Brian Eno's Bloom, if not better—not least because it's free. (via TUAW)

Tightwire: A fat man on a tightrope wire, in 3D, who you keep alive by tilting your iPhone. The graphics are good, the impact animations forceful and satisfying, and difficulty level high enough to keep this simple concept entertaining for more than a few minutes. One dollar.

Waze: To be honest, crowd-sourced navigation sounds like a pretty terrible idea, but who am I to judge: Waze has been available in Israel for quite a while, and people swear by it there. In the US, its userbase is a little lean, and most the features don't yet work as well as they're supposed to—turn-by-turn navigation included. If more people join, I guess, the user-contributed information, like common speed traps, road quirks, and whatever else you can think of, should get much better. Cool, but couldn't Google just do this by enabling user layers in Maps? Free.

Call of Duty: World at War Companion: Ha ha, that icon got you all excited, didn't it? Sorry, this isn't a new Call of Duty game for the iPhone. Actually, no, not sorry, because for anyone who plays COD: WaW (nice acronym), the detailed stats-tracking and player communication features are pretty neat. Free.

iSimulate: Alright kids, step outside—this one's for the developers. iSimulate lets you display iPhone apps on your computer screen, mainly for the purposes of demo recording, which is tough in the SDK emulator on account of its awkward accelerometer and multitouch implementations. $8.

The Week's App News on Giz:
• Gross Virtual Girlfriend App Is One-Upped by its Gross Fox News Coverage
• Apple Yanks Sex Offender Locator From App Store to the Relief of Perverts Everywhere
• Giz Explains: How Push Works
• Apple's Phil Schiller Explains They Don't Actually Censor Dictionaries
• Now Apple's Blocking All Ebook App Store Submissions? Update: No
• The Stupidest App Store Incident Yet: Apple Censors a Dictionary
• Third Largest App Store Developer Gets Banned, For Sucking
• Windows Mobile Wants In On the iPhone App Action, Literally
This list is in no way definitive. If you've spotted a great app that hit the store this week, give us a heads up or, better yet, your firsthand impressions in the comments. And for even more apps: see our previous weekly roundups here, and check out our Favorite iPhone Apps Directory and our original iPhone App Review Marathon. Have a swell weekend everybody.