When Factory released their first Direwolf Puppy plushes, we were wounded innocents still in a post Red Wedding haze. But we've grown up, as has Game of Thrones - and thus, so must the plushie merchandise.
So far only Ghost from the surviving Direwolves has been elevated to adult-plush status (Poor Lady and Grey Wind), and the 18 inch long plush comes posed ready to ominously stare out into the cold distance as his master Jon so often does.
Drogon is likewise the only one of Dany's brood so far to get the non-egg plush treatment, but unlike Ghost, Drogon is fully poseable, with a wire armature hidden inside the dragon to let you pose his head, tail and wings as you see fit for your position as the (plush) mother of Dragons. Well, Dragon singular, at least for now.
G/O Media may get a commission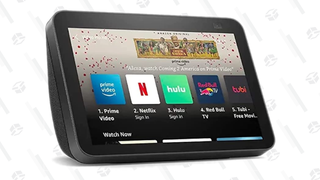 Want to a snuggly homage to Jon Snow or Daenerys Targaryen? You can buy both plushes (as well as the full litter of adorable Direwolf puppies) directly from Factory Entertainment's website linked below - the gold price for both being $30 each.
The Iron Price is understandably not listed, but feel free to ask them about it.
---
You're reading Toybox, io9's blog for all things pop culture. From merchandise to awesome fan creations, TV recaps and critical commentary on the hot topics of the day, you can find it all here!