How do you organize photographs of an alien world in the era before computers? By printing them out and sticking them to a globe of the planet!
Mariner 6 (top two rows) and Mariner 7 (center to down right and south pole) pictures printed and assembled on a Mars globe on March 20, 1970. Image credit: JPL
The Mariner flybys past Mars were our first up close and personal view of the red planet. After the quick glance of the planet provided by Mariner 4 in 1965, Mariner 6 and 7 arrived in 1969 for a more extensive survey of Mars.
Mars experienced its first dual flyby with the arrival of Mariner 6 and Mariner 7 in 1969. Image credit: NASA/JPL
G/O Media may get a commission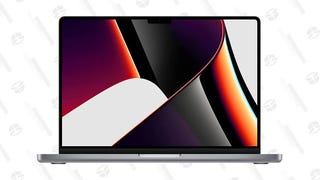 Save $300
2021 14" 1TB MacBook Pro
Mariner 6 and Mariner 7 were a matched set of identical spacecraft, sent to fly past Mars as the first dual encounter with the planet in 1969. Mariner 6 made the first flyby with Mariner 7 tagging along just five days later. The experience of manoeuvring the first probe was used to improve instructions for the flyby for the second probe, programming the 11.8-kilogram Control Computer and Sequencer for autonomous control during the flyby.
Artist's concept of the Mariner 6 and 7 spacecraft. Image credit: NASA/JPL
They carried identical payloads with both near and far resolution cameras, infrared and ultraviolet spectrometers, an infrared radiometer, a celestial mechanics experiment, and an S-band occultation experiment.
Both probes carried identical television cameras: Camera A, a wide-area lens covering 1,000 kilometers x 1,000 kilometers with a 3 kilometer resolution, and Camera B, a telephoto lens covering 100 kilometers x 100 kilometers with a 300 meter resolution. The cameras alternated taking pictures so a new photo was taken every 42 seconds. Mariner 6 sent home a total of 75 images during its flyby (49 far, 26 near) and Mariner 7 sent home another 126 images (93 far, 33 near), a massive improvement over the measly 21 images returned by Mariner 4 five years earlier. The probe pair sent home 800 million bits of data during the two flybys.
Narrow angle images from Mariner 6. Image credit: NASA/JPL reprocessed by Ted Stryk
Fifty hours before closest approach to Mars on July 29th, 1969, Mariner 6 flipped on its scientific instruments and started scanning the planet. A cooling system failure knocked the infrared spectrometer out of service, but otherwise the mission succeeded as planned. Based on the mission findings, Mariner 7 was rerouted farther south than originally intended, prioritizing near-encounter photographs on the light side of the planet. In the global model of the planet, Mariner 6 took the two two rows of photographs, while photographs from Mariner 7 extend from the center to the bottom right and across the Martian pole.

Global view of Mars as seen by Mariner 7 during its approach. Image credit: NASA/JPL
While the photographs finally cleared up that the long dark features were not canals, both probes managed to find entirely cratered regions. Despite photographing 20% of the planet's surface, both probes missed the epic volcanoes and canyons that fascinate us today. In addition, the probes identified a predominantly carbon dioxide atmosphere (98%!) with a surface pressure of 6 to 7 millibars, about the same as about 30.5 kilometers altitude on Earth. The probes also found a polar icecap composed of frozen carbon dioxide, and nocturnal surface temperatures as low as -73°C at the equator and -125°C at the south pole. The spacecraft also further refined estimates of the mass, radius, and shape of Mars.
When Mariner 9 arrived at Mars in 1972, they quickly acquired far too many images for this technique to work. Instead, Mariner 9 was all about the Mars mosaics. ...assembled the hard way by hand-trimming photographs with scissors.
Read more about the Mariner 6 and Mariner 7 spacecraft or about early Martian image processing. Check out an interview with Don Davis, the airbrush artist who worked on the original Mariner Mars globes, here.