This week's Guardians of the Galaxy animated short gives us more time with Rocket Raccoon while killer bears attack Paris and Zoo. Face Off celebrates its 100th episode with creepy couples' makeovers, and everyone guest stars on Rick and Morty — and we do mean everyone.

Tonight
Teen Wolf (10PM, MTV)

Which Dread Doctor do you most identify with? The stoic Pathologist; the enigmatic Geneticist, or is it the take-charge Surgeon?
The Whispers (10PM, MTV)

" A plan is put into place to trap Drill and attempt to drain away its energy, thus killing it in the process. But if unsuccessful, Drill could seek retribution in a most deadly way."
G/O Media may get a commission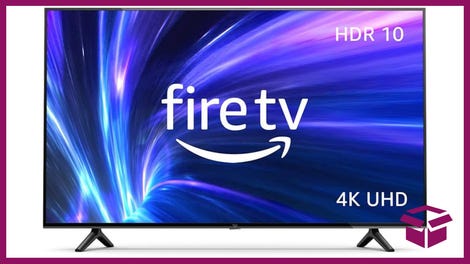 42% Off
Amazon Fire TV 50" 4K Smart TV
Want to hear a joke about a ghost? That's the spirit.

Tuesday
Face Off (9PM, SYFY)

"100th episode! The artists must create macabre makeups for engaged couples – and then McKenzie's gonna marry them!"

Zoo (9PM, CBS)

A "sleuth" of Eurasian brown bears runs amok in Paris, and Chloe still refuses to speak in contractions!
Scream (10PM, MTV)

Ghostface plays a deadly game of hide-and-seek inside a disused warehouse… and somebody's guaranteed to die! If this episode disappoints, I'd like to direct you all to the excellent Japanese slasher film, Evil Dead Trap (Toshiharu Ikeda, 1988)—similar premise, but with a twist ending I think you'll appreciate just as much as I did.
Wednesday
Extant (9PM, CBS)

(Intense.)
Mr. Robot (10PM, USA)
"allsafe gets pwned — & dark army is ready to meet Elliot (Rami Malek). is it @whiterose? tyrell (Martin Wallström) and joanna's (Stephanie Corneliussen) plan goes into full effect."
Thursday
New Thursdays: (5PM, CARTOON)

Cartoon Network presents two hours of new episodes including Uncle Grandpa, Teen Titans Go!, Clarence, We Bare Bears and Regular Show.

Astronaut Wives Club (8PM, ABC)

"As the country seems to spiral out of control, the wives struggle to find their place in the new world order. Wally's career at NASA ends, and Jo must redefine her role and priorities. Louise wrestles with the fear of losing her husband as Alan considers undergoing risky surgery that will determine his future. Susan Borman grapples with uncertainty as the Apollo 8 mission goes where no man has been before"
Beauty and the Beast (8PM, CW)

"When you chase the devil, you could catch Hell!"
Dominion (10PM, SYFY)
Friday
Defiance (8PM, SYFY)

Kindzi will not allow the Votanis Collective to kill…
Killjoys (9pm SYFY)

New Killjoys promises some stunning fight choreography.

Dark Matter (10PM, SYFY)

A bomb in the space station?! Great scott!
Saturday
Doctor Who: The Doctor's Finest (8PM, BBC AMERICA)

Hannah Hart presents eight of the "most essential" episodes of the modern series.

Marvel's Guardians of the Galaxy: Rocket Raccoon (8:58PM, DISNEY XD)

Another Guardians short this week focusing on Rocket Racoon! You'll have to tune in a full hour later to see the second half….

Hannibal (10PM, NBC)

"Will Graham (Hugh Dancy) and Jack Crawford (Laurence Fishburne) are certain that Francis Dolarhyde (guest star Richard Armitage) will strike again with the approaching full moon, but without a solid lead, they remain unable to predict the next family on the Red Dragon's hit list. Certain that Hannibal Lecter (Mads Mikkelsen) can lead the FBI to Dolarhyde, Alana Bloom (Caroline Dhavernas) offers Hannibal a chance at redemption. Meanwhile, Dolarhyde struggles with his feelings about the one good thing that remains in his life-his coworker Reba (guest star Rutina Wesley). Gillian Anderson, Aaron Abrams and Scott Thompson also star."
Aw yeah.

Scream Queens (11:30PM, FOX)
Sneak preview of the pilot!
Sunday
Teenage Mutant Ninja Turtles (11AM, NICK)

This one's called Attack of the Mega Shredder!

"Leonardo decides to sneak into Shredder's lair alone, and winds up facing the biggest mutant threat yet."
Last Ship (9PM,TNT)

Humans (10PM, AMC)
Another episode of the show so good, it doesn't need to advertise, apparently.

Rick And Morty (11:30PM, CARTOON)