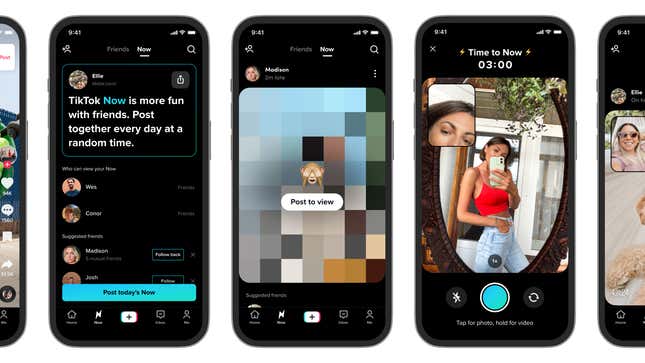 Well, that didn't last long. Less than nine months after its initial release, TikTok is calling it quits on its BeReal competitor TikTok Now. The apparent reprioritization at TikTok comes as BeReal, once the hottest app on the market, continues to struggle with declining users. At the same time, the app is adding features to Family Pairing meant to give parents greater control over their children's feeds.
TikTok Now users shared screenshots on Twitter of notifications they received informing TikTok was "updating the TikTok experience and discontinuing TikTok Now." The screenshots, reviewed by Gizmodo, were first spotted by The Verge. When asked to comment on the users screenshots, TikTok did not deny the app's discontinuation of the feature. Instead, a TikTok spokesperson sent us this vague statement.
"We're committed to exploring new ways for the TikTok community to create and connect over shared entertainment," the TikTok spokesperson said. "We've learned a lot since launching TikTok Now and are using that feedback to help inform the future of real-time creation so that we can continue to improve the TikTok experience with new and evolved features for our community."
When TikTok Now debuted in September 20222, it was one of several apps attempting to hop on the anti-Instagram, off-the-cuff image sharing bandwagon. The feature gave its users daily prompts to capture a 10-second video or a static photo to share with their friends. TikTok Now was accessible through the TikTok app in the US and as a separate app in other regions. At the time, TikTok said its less-than-subtle copycat was an attempt to "foster authentic and spontaneous connections."
TikTok had reason to believe its new app would succeed. BeReal struck a chord last year with viral success and quickly became one of the fastest-growing apps on the market. BeReal was even named "iPhone App of The Year in last year's Apple App Store Awards. That popularity was short-lived. In April, the analytics firm Apptopia told the New York Times that the total number of users on BeReal had plummeted 61% from its height in September. The app also struggled to respond to concerning research shared with Gizmodo showing it had the highest proportion of child users exposed to sexual content of any major social media app. BeReal, for what it's worth, has refuted some of those figures publicly.
TikTok tries to get out ahead of child privacy laws with new video filtering tools
TikTok may be discounting TikTok Now, but it's not slowing down on new updates to its flagship app. On Tuesday, the company published a blog post announcing a new tool that lets parents filter out videos with specific words or hashtags. The new tools added to TikTok's Family Pairing feature a continuation of a similar filtering tool the app gave users to filter out videos with certain words or hashtags from appearing in their own For You or Following feeds. TikTok says the expanded tools are meant to help parents and caregivers "​​reduce the likelihood of their teen viewing content they may uniquely find jarring."
The company also announced the launch of a new "Youth Council" later this year which will collect first-hand experience from young users to help inform the way TikTok makes changes to its future user experience. TikTok says it already listens to feedback from younger users, but believes the Youth Council will "provide a more structured and regular opportunity for youth to provide their views."
TikTok's new safety announcement came within hours of Meta ​​announcing a new suite of new safety tools likewise intended to give parents more oversight of their teen's activity on Messenger and Instagram DMs. Both Meta and TikTok have found themselves in the crosshairs of lawmakers around the country fighting for bills that would force social media companies and other tech firms to give young users stricter privacy settings by default. In some cases, states have taken fears of perceived social media harm even further and enacted laws requiring parental consent for minors to access these services. Both TikTok and Meta have vigorously opposed those parental consent laws, claiming their demands for age verification could do more harm than good.