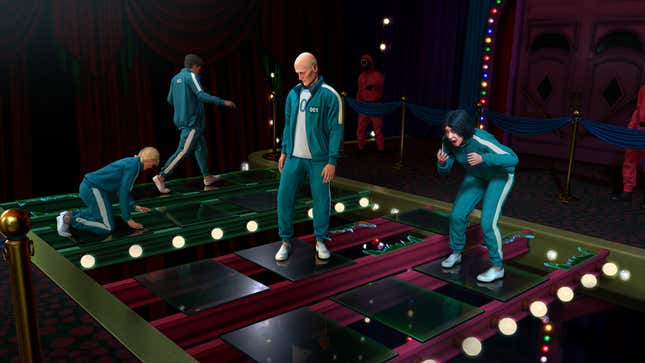 We, as a society, did not deserve Squid Game. That's clear to me now. None of the people in charge have the media literacy needed to properly appreciate Squid Game, and none of the people in charge of franchising opportunities deserve to license Squid Game, because we got this: a "fully immersive VR experience," according to a press release, where "players can participate in the world of Squid Game through this unprecedentedly realistic virtual reality experience."
Netflix Passwords, ChatGPT Can't Detect AI, and No More CoTweets | Editor Picks
Besides the fact that this sort of shit cheapens and waters down what Squid Game was trying to say in the first place, who wants to spend their time playing no-stakes children's games like tug of war and hopscotch? Yes, Squid Game is literally the most watched Netflix series of all time, but who wants, and I quote from the press release "full-body VR" of games-as-torture?
According to the press release, this experience will be available at Sandbox locations across the country from September 29, and "groups of up to six will play games from the series, like 'Red Light, Green Light,' and 'Cross the Glass Bridge'." The company has also added in new mini-games, which Sandbox VR says it developed with Netflix. The ultimate goal of this collab was to "bring the unforgettable thrills and drama of Squid Game to VR," said Michael Hampden, SVP Content and Creative Director at Sandbox VR.
So much of this just... doesn't seem fun? What is the appeal?! I need someone to explain it to me. And use small words, because I'm clearly the moron who just doesn't get art or something. And god, I beg you, don't send Greg Lombardo, VP, Live Experiences, Netflix, to explain it to me, because after reading this quote I am still absolutely baffled: "By tapping into the power of virtual reality, fans can further immerse themselves in the world of this series with captivating and thrilling games they have come to know and love."
Sandbox VR builds out immersive experiences that combine extremely sensitive motion-tracking with haptics "to provide players with unprecedented realism and complete immersion that's not possible with home VR or other location-based VR platforms... Guests' own bodies act as their game controllers; all they have to do is step into the virtual world and participate in the action unfolding all around them."
Maybe I'm jaded. Maybe I hate fun. Or maybe I'm right and we all need to put Squid Game back on the shelf until we can think critically about the themes and cultural critique it leveled at this consumerist, ultra-capitalist society.
---
Want more io9 news? Check out when to expect the latest Marvel, Star Wars, and Star Trek releases, what's next for the DC Universe on film and TV, and everything you need to know about the future of Doctor Who.