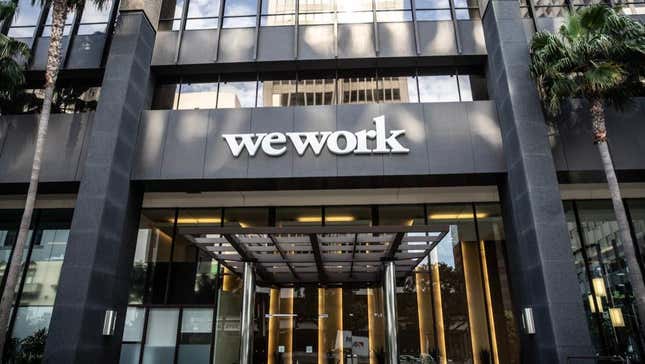 WeWork, the company that offers flexible co-working spaces, said in a Securities and Exchange Commission (SEC) filing on Tuesday that it is at risk of bankruptcy. The business has struggled since the beginning of the COVID-19 pandemic, when offices shuttered their doors and moved to remote work, resulting in WeWork losing billions of dollars.
Meet Microsoft's New Surface Laptops
"Our losses and negative cash flows from operating activities raise substantial doubt about our ability to continue as a going concern," WeWork said in the filing. It reported roughly $2.9 billion in debt as of June 30.
The statements included in the filing fall under a going concern clause, meaning WeWork isn't saying it's filing for bankruptcy, but is required to disclose all information regarding its ongoing analysis. The company's analysis does not take into account the next planned steps, which, according to the filing, will include restructuring to reduce rent and tenancy expenses with more favorable lease terms, reducing member churn and increasing new sales, controlling its expenses, limiting its capital expenditures, and selling assets or "seeking additional capital through the issuance of debt or equity services."
The company told The Washington Post it had grown its revenue in the second quarter by 4% year-on-year, adding that its 777 global locations are operating at pre-pandemic levels. To drive further improvements, WeWork has exited or amended 590 of its leases over the last two years, reducing roughly $12.7 billion in lease payments.
"We are confident in our ability to meet the evolving workplace needs of businesses of all sizes across sectors and geographies, and our long-term company vision remains unchanged," WeWork CEO David Tolley said in an emailed statement to Gizmodo. "The company's transformation continues at pace, with a laser focus on member retention and growth, doubling down on our real estate portfolio optimization efforts, and maintaining a disciplined approach to reducing operating costs."
However, Erik Gordon, a professor at the University of Michigan's Stephen M. Ross School of Business, told The Post that WeWork was, "Brilliant in creating an aura of being the next big thing, but they were never financially successful."
This is not the first time WeWork has suffered severe losses, having nearly collapsed in 2019 when its founder, Adam Neumann, attempted to take the company public. The attempt received scrutiny over its finances, leadership, and path to profitability. WeWork was bailed out by SoftBank, which gave Neumann $1.7 billion to step down as CEO and chairman of the board. SoftBank became WeWork's largest shareholder and major creditor, and in 2021, it officially became a publicly traded company.
Despite WeWork's continued rebounds and early success, it reported a net loss of $700 million in the first half of 2023 in addition to the $2.3 billion loss it sustained last year.
"People who follow the company have been expecting this for a while," Gordon told The Post. He added, "The clock is ticking down for WeWork."