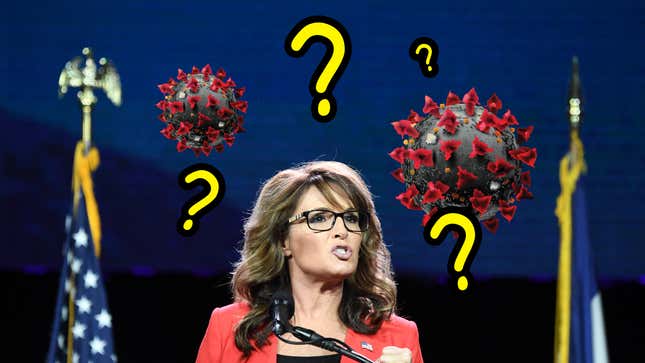 The former Alaska governor and disastrous presidential running mate is in the Big Apple to sue the New York Times for libel after it insinuated that her rhetoric was tied to the 2011 mass shooting in Tucson, Arizona, which left six dead and Rep. Gabby Giffords with massive brain injuries. While she's around, Palin decided to squeeze in some fine dining. Who's worried about spreading a little plague?

Palin is unvaccinated ("over my dead body") and recently received a positive coronavirus test, resulting in the delay of her trial. But you can't keep this tiger down, and that puttanesca isn't going to eat itself! So instead of isolating, she's been walking around NYC with a virus that is estimated to have resulted in nearly 73 million confirmed cases and over 876,000 deaths in the U.S. alone, violating local rules on admissions to venues and doing it all maskless. Here's what we know about Palin's magical covid journey so far, and we'll be updating this if we hear about any further sightings.
Have you seen Palin on the streets of New York this week? Email tom.mckay@gizmodo.com and let us know.