Rhys Ifans reveals just what makes the Lizard tick in The Amazing Spider-Man. One of Britain's greatest acting veterans is coming to Doctor Who. Chloe Moretz starts filming the Carrie remake. Plus where is Games of Thrones headed next season?
Nothing but spoilers past this point!
Top image from The Amazing Spider-Man.
The Amazing Spider-Man
Here's a trio of behind-the-scenes featurettes.

Rhys Ifans explains what attracted him to the role of the Lizard or, perhaps more accurately, that of his human alter ego Dr. Curt Connors:
What fascinated me about the character, was the whole, unlike the villain who comes in to just spar with Spider-Man, he has a real emotional connection with Peter's father, and that he is a very intelligent scientist who genuinely wants to benefit and change the lives of thousands of humans, limbless humans in this case. We see kids coming back from war zones with lost limbs. So science and technology would be of huge benefit to millions of people.

I was interested to see how his hunger for the advancements of that science and his moral conflict with the corporation that he works for, that obviously wants to benefit financially from this technology at the expense of unwitting New Yorkers. Connors, to the end, is morally repelled by that decision, and decides to become his own lab rat. But he doesn't figure what that cold blooded sort of sense of hubris does to a compassionate human mind.
There's a ton more at the link. [Newsarama]
---
Iron Man 3
I'd take all this with a grain of salt, but a recent podcast from The Playlist has a ton of new, intriguing information for Shane Black's Iron Man movie. First up, character actor William Sadler, whose past roles include the Grim Reaper in Bill and Ted's Bogus Journey and the ridiculously enigmatic Section 31 head Sloan on Deep Space Nine, will reportedly appear in the movie as a general and superior to Don Cheadle's Colonel James Rhodes, although, for what it's worth, IMDB has him listed as "Sal Kennedy", likely in reference to Tony Stark's scientist friend of the same name from the comics. I'm guessing the general is the slightly more likely role.
G/O Media may get a commission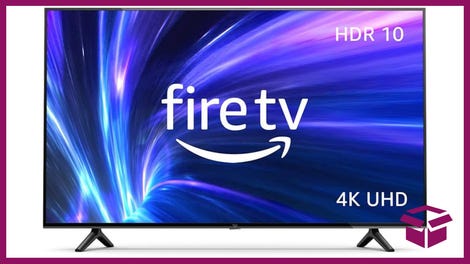 42% Off
Amazon Fire TV 50" 4K Smart TV
Anyway, although Iron Man 3 is said to intentionally be downplaying any connections to the larger Marvel universe and going for something more self-contained, S.H.I.E.L.D. will still have a small role to play in the person of Cobie Smulders's Maria Hill. She will reportedly play much the same role as Clark Gregg's Agent Coulson did in the first Iron Man, which presumably means making a bunch of inopportune pop-in appearances punctuated with some nice one-liners. Also, the Playlist revealed the role intended for Hong Kong star Andy Lau is "a very different version" of the Chinese nuclear physicist turned supervillain (and occasionally semi-reformed superhero) Radioactive Man. It sounds as though he would have a relatively small role in this film, possibly just as his pre-transformation alter ego Chen Lu, but also as though he could make appearances in future Marvel movies and appear in Iron Man 3's post-credits scene. Which leads us to by far the most exciting part of the story...
---
Ant-Man
...because the post-credits scene reportedly involves Radioactive Man encountering Ant-Man (or their secret identities meeting each other, or some other permutation thereof). What's more, the scene will reportedly be directed by Edgar Wright, just as Joss Whedon directed the Thor post-credits scene that directly set up The Avengers. As Comic Book Movie points out, this could well explain Wright's earlier statements that he was hoping to shoot some of Ant-Man this year, despite his commitments to the Shaun of the Dead and Hot Fuzz follow-up World's End. Again, grains of salt all around, but if this is all true... well, holy crap, am I excited. [The Playlist via Comic Book Movie]
---
Man of Steel
Here's a Vancouver set photo giving us a look from left to right at young actors Robert Gerdisch, Jack Foley, and Dylan Sprayberry, who play young Whitney Fordham, Pete Ross, and Clark Kent, respectively. [Man of Steel Facebook]
---
Black Panther
Actor Romeo Miller, otherwise known as the rapper Lil' Romeo, discusses the possibility of playing this Marvel superhero in a potential film:
I would love to. I remember that before Jumping the Broom got released, there were some producers were talking about shopping the script to some people and I was one of the people they contacted and was asked if it was something I would be interested in. You never know. I definitely want to take in and be the next big action hero. That may be something that's cool.
If nothing else, it sure sounds like Marvel Studios has been discussing this role — along with Luke Cage, according to some interviews — with a wide array of potential stars. It's just hard to know what that means, in terms of when we'll actually see these movies materialize. [Comic Book Movie]
---
Carrie
Kick-Ass and Hugo star Chloe Moretz has begun filming in Toronto for Boys Don't Cry director Kimberly Peirce's new adaptation of the Stephen King novel, and here's the first batch of set photos to show for it. [Splash News Online]
MGM and Screen Gems have also released this synopsis:
The quiet suburb of Chamberlain, Maine is home to the deeply religious and conservative Margaret White (Julianne Moore) and her daughter Carrie (Chloe Moretz). Carrie is a sweet but meek outcast whom Margaret has sheltered from society. Gym teacher Miss Desjardin (Judy Greer) tries in vain to protect Carrie from local mean girls led by the popular and haughty Chris Hargenson (Portia Doubleday, Youth in Revolt), but only Chris' best friend, Sue Snell (Gabriella Wilde, The Three Musketeers), regrets their actions. In an effort to make amends, Sue asks her boyfriend, high school heartthrob Tommy Ross (newcomer Ansel Elgort), to take Carrie to prom. Pushed to the limit by her peers at the dance, Carrie unleashes telekinetic havoc. Brian De Palma's 1976 film version of CARRIE earned Oscar nominations for stars Sissy Spacek and Piper Laurie.
---
Beasts of the Southern Wild
Writer Lucy Alibar discusses this Sundance hit, which is set in a vaguely fantastical world in which an off-the-grid community is ravaged by apocalyptic storms and the emergence of once mythical beasts, the aurochs:
It sort of became more grounded as it went. I think the play [on which the movie is based] was much more lyrical and much more fantastical and much less attached to real things, and the process of transposing it to Louisiana and taking these Apocalyptic events and attaching them to actual environmental phenomena. When the character was played in the theater, it was a 25-year-old guy playing an 11-year-old boy. It's a much larger step away from reality so actually attaching that character to a little girl who is probably similar to the age Lucy was talking about when she was writing the show, a lot of real elements are going to come in. By the end, we stopped thinking about it as a fantasy film and it became much more a film through the perspective of a 6 year old, when reality and imagination are not necessarily different things or reality is built out of both what's actually happening and what you imagine to be there and you're not making those distinctions. For me now, it certainly has a heightened reality, but it's the heightened reality that exists when you're six.
There's more on the film at the link. [Coming Soon]
---
Monsters: The Dark Continent
British TV director Tom Green, whose previous credits include Misfits, is officially moving ahead with a sequel to Gareth Edwards's 2010 indie sci-fi film. Written by Jay Basu, the sequel now even has an official synopsis:
Seven years on from the events of Monsters, and the 'Infected Zones' have spread worldwide. Humans have been knocked off the top of the food chain, with disparate communities struggling for survival. American soldiers are being sent abroad to protect US interests from the Monsters, but the war is far from being won.

Noah, a haunted soldier with several tours under his belt, is sent on a mission: an American soldier has gone rogue deep in the Infected Zone, and Noah must reach him and take him out. But when Noah's unit and transport are destroyed, he finds himself with only a young and inexperienced cadet for company - the brother of the man Noah has been sent to kill.

The two soldiers must go on a life-altering journey through the dark heart of monster territory, accompanied by a young local woman to guide them. By the time the three of them reach their goal, they will have been forced to confront the fear that the true monsters on the planet may not be alien after all.
---
Van Helsing
The omnipresent Alex Kurtzman, who along with Bob Orci has written Transformers, Star Trek, Cowboys & Aliens, and seemingly every other major science fiction project of the last ten years, discusses their work rebooting the Van Helsing franchise for Warner Bros.: Well, I don't want to give away too much, because we are actually at the very beginning of talking about what to do with it. But I do feel like the Van Helsing that Anthony Hopkins plays in [Bram Stoker's] Dracula is sort of the parody version of it, and the Van Helsing that Hugh Jackman played was obviously in a different place as well. I think that these kinds of movies have evolved a lot since then. You know, The Dark Knight was a major, major corner-turning moment in the way that genre and superhero stories could be told. Really grounded in reality. Really grounded in really cool things. That's what I'd like to do without sacrificing the fantasy element. We aspired to do that as well on Trek, you know, keep it "real." That's such a different franchise than Batman, but that's really what we wanted to do. And we'd love to do that with Van Helsing.
---
Devolution
We don't actually know if this project is science fiction or not - it's so far only been described a "thriller" - but the film's creative team so far is longtime Lost director Jack Bender and Wrath of Titans and The Walking Dead writer David Leslie Johnson, plus it's based on an idea from World War Z writer Max Brooks, who is also producing. So, this is probably at least worth keeping an eye on, between that pedigree and the vaguely science-y title. [Heat Vision]
---
Doctor Who
In news that basically just makes me say, "It's about damn time", badass British acting institution David Warner will guest star in the upcoming seventh series. Warner's previous credits include (deep breath) Ra's al Ghul on Batman: The Animated Series, Evil in Time Bandits, Captain Picard's Cardassian torturer Gul Madred on Star Trek: The Next Generation as well as St. John Talbot in Final Frontier and Chancellor Gorkon in The Undiscovered Country, two completely unrelated roles for some inexplicable reason in the MST3K entry Quest of the Delta Knights, plus roles in such cult and genre classics as Twin Peaks, The Adventures of Brisco County, Jr., Gargoyles, Freakazoid!, as well as a whole lot of other things that aren't necessarily all that good but are always made more awesome by his presence. (He's also done a ton of Doctor Who audios, with his turn as Isaac Newton in Big Finish's Circular Time a particular highlight.) Anyway, Warner will appear alongside the also quite awesome Liam Cunningham, who plays Davos Seaworth on Game of Thrones, in an episode featuring new companion Jenna-Louise Coleman that's written by Who veteran Mark Gatiss. In case it's not clear — I'm a little bit excited about this news. [Doctor Who News Page]
---
Game of Thrones
Filming on season three is set to begin in a couple weeks, and HBO has put out a press release covering some basic production details. The show will be returning to its Belfast headquarters as well as its season two locations of Iceland, which stood in for the lands north of the Wall, and Croatia, which played Qarth and the surrounding lands. The big addition this season is Morocco, so feel free to speculate on which part of Westeros or Essos that country might be standing in for. Beyond showrunners David Benioff and D.B. Weiss, previous series writers Bryan Cogman, Vanessa Taylor, and George R.R. Martin himself are all back to write episodes, and directors for next season include Alex Graves, Michelle MacLaren, Dan Minahan, David Nutter, and Alik Sakharo, plus Benioff and Weiss making their own directorial debuts. [Hitfix]
---
True Blood
Showrunner Alan Ball drops this hint about what the iStake app means for Bill and Eric:
"It stays on for several episodes and you should be worried. They're in danger, in serious danger."
[TV Guide]
---
Once Upon a Time
Show writer Jane Espenson promises there won't be any time jump from season one to two:
"Don't worry, we won't be skipping over any big moments. We love these characters and we want to see how they navigate their way through their new situation. And not just the Charming Family... expect big moments for everyone in town!"
[TV Guide]
---
Eureka
Here's a promo for episode eleven, "Mirror Mirror."

---
Teen Wolf
Here's a promo and sneak peek for episode six, "Frenemy."

---
Additional reporting by Ben Vrignon and Charlie Jane Anders.