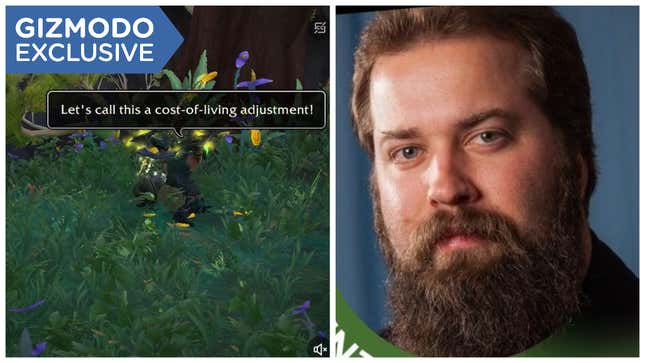 Activision Blizzard leaders didn't appreciate jokes that poked fun at greedy corporate execs via a conniving, scampering, and loot-obsessed character in World of Warcraft, so much so they fired the game designer who wrote the little goblin's voice lines.

Meet Microsoft's New Surface Laptops
In a series of tweets posted Wednesday, former Activision Blizzard game designer and nine-year company veteran Eric Covington said that he was fired in March for "lampooning generic corporate greed" after he wrote a few tongue-in-cheek lines for a World of Warcraft Venture Co. loot goblin. Only after the lines were approved and put into the game did the company terminate him, but not before promoting the Covington's character in several tweets on the official World of Warcraft (WoW) Twitter account, per screenshots he shared.
The tweets promoting Covington's dialogue in March have since been removed, but the screenshots shared by Covington show the character saying lines like "Let's call this a cost of living adjustment." According to the designer, other zingers included "No profit sharing!," "Looks like another yacht for me!," and "Time to go back to the office!"
"Why fire someone on one hand for a line of 'inappropriate' dialogue, but on the other hand use it as promotional material?" Covington asked.
According to termination documents obtained by Gizmodo, the company's human resources director told Covington on March 30 he was being terminated "as a result of your misconduct and harm to the Company by inserting inappropriate non-game related content into a game, which is also a violation of the Company's Code of Conduct."
Covington said that higher ups only learned of the lines after "string lock," which in developer parlance means the stage in development when they can no longer change lines of text or add new ones. "I had a date weeks before the content went live where I needed to lock my dialogue in and then move on to other things to fix to get the patch ready," he said.
The "back to the office" line is relevant to many companies in the post-pandemic world, including Activision Blizzard, which is forcing employees back to the office at least three days a week. Activision employees saw this change April 10, while Blizzard staff are expected to return to the workplace on July 10.

Covington said he was actually "in the camp of being excited for [return to office] because of how it benefited my personal working style" but he still "championed for folks to be offered the work style they required."
Gizmodo reached out to Activision Blizzard for comment, but we did not immediately hear back. The treasure goblin character has been a part of WoW since 2017, introducing during the Diablo 20th anniversary world event.
Covington said he sent a lengthy formal email to HR and leadership after his termination where he said that the lines passed through the approval process and made it all the way to the marketing stage without complaint. He also pointed out that the game publisher kept the social media promotions for the WoW loot goblin up during his termination process and shortly afterward.
Activision Blizzard is especially concerned about its public image right now. CEO Bobby Kotick has been doing cleanup over allegations the company facilitated a toxic work environment that included sexual harassment. The company settled a $35 million lawsuit over those claims of workplace harassment earlier this year. Not only that, but Activision Blizzard is in the midst of an anticipated $68.7 billion buyout by Microsoft. While the deal was approved by the EU, Activision is trying to appeal the UK's decision to block the deal from going forward.