A group of advertisers suing social-media giant Facebook in California over bungled video metrics now alleges in court filings that the platform failed to disclose data errors in a manner that could "[rise] to the level of fraud and may warrant punitive damages," according to Ars Technica.

The case, LLE One LLC et al. v. Facebook, was first filed in California federal court in 2016. But lawyers for the plaintiffs alleged this week after reviewing tens of thousands of internal Facebook documents that "In addition to Facebook knowing about the problem far longer than previously acknowledged, Facebook's records also show that the impact of its miscalculation was much more severe than reported. The average viewership metrics were not inflated by only 60-80 percent; they were inflated by some 150-900 percent."
They also argued in the filings that Facebook deliberately downplayed information showing the video ads were not worth anywhere near as much as believed because they wanted to keep revenue flowing:
Facebook did not wish to draw scrutiny to its viewership figures because it knows that the majority of video ads on its platform are viewed for very short periods of time—users scroll right past. If advertisers were more widely aware of this fact, and in particular, if they knew that their advertisements were among those that were not drawing viewers' attention, they would be less likely to continue buying video advertising from Facebook.
Facebook initially admitted that they had discovered they miscalculated video metrics in their internal dashboard in August 2016. In a blog post the next month, Facebook vice president David Fischer explained the error:
About a month ago, we found an error in the way we calculate one of the video metrics on our dashboard – average duration of video viewed. The metric should have reflected the total time spent watching a video divided by the total number of people who played the video. But it didn't – it reflected the total time spent watching a video divided by only the number of "views" of a video (that is, when the video was watched for three or more seconds). And so the miscalculation overstated this metric.
G/O Media may get a commission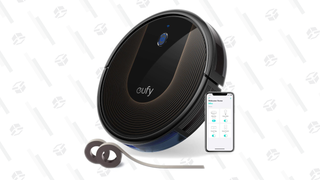 48% Off
Eufy BoostIQ RoboVac
But according to the Wall Street Journal, the plaintiffs allege that Facebook knew it was misreporting metrics by January 2015, never fixed the error, and dramatically understated the impact. Their review of around 80,000 pages of Facebook documents obtained during court proceedings showed a "company mentality of reckless indifference toward the accuracy of its metrics," the legal filings say. While Facebook told advertisers that the error never affected billing, the plaintiffs wrote that grossly exaggerated video metrics encouraged them to spend more on the platform.
According to the Journal, the plaintiffs wrote the internal documents also show Facebook management first ignored the problem and later deliberately shielded the issue from prying eyes:
In June 2016, nearly a year later, a Facebook engineering manager, following up on advertisers' complaints, discussed the issue internally, writing, "somehow there was no progress on the task for the year." The plaintiffs also allege the company developed a "no PR" strategy to avoid drawing attention to the matter.

Facebook decided to "obfuscate the fact that we screwed up the math," the complaint said, quoting the Facebook documents.
Facebook told the Journal the lawsuit was without merit, that it has moved to dismiss the suit, and that "Suggestions that we in any way tried to hide this issue from our partners are false. We told our customers about the error when we discovered it—and updated our help center to explain the issue."

Though the advertisers are central in the suit, the Nieman Journalism Lab drew a direct correlation to the disastrous "pivot to video" strategy many digital newsrooms have pursued in the past few years, resulting in layoffs of editorial staff at outlets including Mic, Vice Media, MTV News, Fox Sports, Vocativ, Bleacher Report, and Mashable. (Disclosure: The author of this piece previously worked at Mic, but left for a role at Gizmodo before the August 2017 layoffs mentioned in the Nieman piece.)
Facebook has pushed publishers hard to create video for their platform, including using tactics like paying them to do so. It also often changes its algorithms to prioritize different kinds of content at its own whims, which can be disastrous for publishers reliant on Facebook to reach audiences. So the logic in some newsrooms seems to have been at least in part that following the social network's lead and getting a head start on what Facebook insisted would be their primary way to reach audiences, producing large amounts of (what ended up being mostly-aggregated) video, would help them survive.
In 2016, Nieman Lab wrote, top Facebook executives including CEO Mark Zuckerberg and Nicola Mendelsohn, its vice president for Europe, the Middle East, and Africa, were trying very hard to push as many publishers as possible into producing tons of video, and quick. Mendelsohn told attendees at a Fortune conference in June 2016 that Facebook was seeing "a massive increase" in engagement with picture and video posts at the same time text-based posts were plummeting, saying that publishers should pursue a strategy of "video, video, video." She claimed that Facebook would be "all video" in 5 years. The same year, Nieman Lab added, Zuckerberg told BuzzFeed News that there was a "new golden age of video," and he believed it was likely within 5 years that "most of the content that people see on Facebook and are sharing on a day-to-day basis is video."
As Nieman noted, the narrative that video posts were the future was baffling to many working in newsrooms who believed it was ephemeral, with numerous reports suggesting that audiences like reading news just fine and really hate pre-roll advertising of the type seen on Facebook and elsewhere. But a bunch of newsrooms went with it regardless, using what looks to have been in retrospect like the kind of Lemmings logic that the Colombia Journalism Review trashed in 2017:
1. lay off most of your writers, who produce stories fast and cheaply for your own website

2. produce more video, which is vastly more expensive and time-consuming and which only finds an audience on other platforms, like Facebook, Twitter or YouTube

3. ????

4. PROFIT
(Another theory, proposed by the Ringer's Bryan Curtis, is that newsrooms were simply following where they believed advertising dollars would be in the future while knowing it would likely result in layoffs and do significant harm to their written journalism.)

But whatever motivated the changes—after all, most newsrooms are not solely reliant on Facebook metrics, and journalism in general is not doing so hot right now—the grandiose promises of that "new golden age" quickly failed to materialize. In Sept. 2017, Digiday reported that one outcome of the "pivots to video" at numerous outlets in summer 2017 was "at least a 60 percent drop in their traffic in August compared to the same period from a year ago," as measured by comScore data.
"You're starting to see more of an emphasis on video in media, but all that does is make it increasingly congested and difficult [for video publishers] to get traction with their intended audience," independent media consultant Brad Adgate told Digiday.
As the Journal noted, trade groups including the Association of National Advertisers have called on Facebook to allow more independent vetting of its metrics after the 2016 disclosure and other errors in its metrics, and it's responded by allowing some third-party verification and audits by watchdogs at the Media Rating Council. But Jason Klint, CEO of online publishing trade association Digital Content Next, told the paper that "Facebook needs to lead with radical marketer and consumer transparency to get past this. We haven't seen it yet."

According to Ars Technica, court proceedings involving both sides of LLE One LLC et al. v. Facebook will resume on December 14, 2018.