The Balloon Array for Radiation belt Relativistic Electron Losses, or BARREL, launched 20 instrument-laden balloons in the endless day of Antarctic summer. Now the team is home, and the photos of their flying plastic jellyfish exploring the sky for science are fantastic.
BARREL is contributing data to understanding the Van Allen belts, two gigantic donuts of radiation surrounding the Earth that change shape in response to solar particles. Each of the 20 balloons drifted in the polar atmosphere for up to three weeks.
×
Starting to inflate a balloon.
G/O Media may get a commission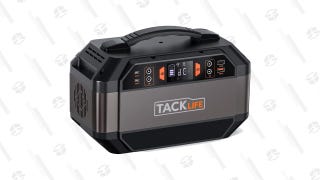 Tacklife Portable Solar Generator
The ballon inflation continues in the background, with a carefully-draped yellow parachute in the foreground.
Launching a balloon.
A fully-inflated balloon carries a small, 20-kilogram instrument payload during the flights.
In calm conditions, the crew performs a Low Wind Dance to beckon enough wind to launch another balloon.
Check out the full NASA Goddard photo gallery for the BARREL project. All photographs credit NASA