We've had opportunities for you guys to be painted by our rock star illustrator Sam Spratt before. We want you to be his muse for a new painting. The only requirements: you have to think of something really totally CRAZY.
Why you ask? Why not. It's Friday. Just post a comment with the craziest tableau you can imagine. Bigfoot feasting on zombie unicorns. Madonna skydiving out of propeller plane piloted by a giraffe. The founding fathers hanging out in a hot tub filled with Jell-O. Those are only a FRACTION of how wacky the ideas you guys should be coming up with. Let your imagination run wild.
You have until 3:40pm EST. Then we select a winner and Spratt gets painting. SO, weirdos, have at it.
G/O Media may get a commission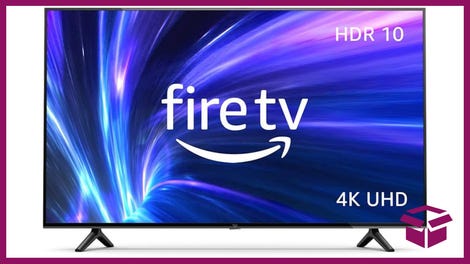 42% Off
Amazon Fire TV 50" 4K Smart TV
Update: We have a winner.
Chewbacca breast-feeding Macaulay Culkin... in Space.
Sometimes less is more. Kudos JackHolliday! Spratt is working away furiously; the illustrations should be ready sometime later tonight.
Here are some others that tickled our fancy:
It's a desert on a hot night. The sunset has the colour of blood dancing around two individuals ready to battle. Their weapons? Hot Fudge Sundays.

As our characters ready their tasty desserts on a showdown at sundown a zombie Michael Jackson tries to stop the annual Thriller Dance. The (dead) King of Pop has had enough.

Oh, and the planet Earth is hurdling towards all of them.
Nice kicker there.
Bill Gates using a Macbook inside his house.
Too inconceivable.
Steve Ballmer. Wait for it….

With his mouth closed.
Ha!
A T-Rex dressed as a luchador wrestling a giant Hamburgular robot piloted by Colonel Sanders wrestling each other in Times Square while zoo animals run rampant in the streets.
Illustration by Gizmodo illustrator Sam Spratt. Check out Sam's portfolio and become a fan of his Facebook Artist's Page.