Over the past 48 hours, compelling evidence has emerged that a long-anticipated End Times is finally upon us. Let's have a look.
Exhibit A: Baton Rouge, Louisiana
More than 1,000 people were rescued by boat or helicopter in southeastern Louisiana on Friday and Saturday, as "unprecedented, historic" flooding drowned neighborhoods from Baton Rouge to Livingston. Numerous rivers in Louisiana and Mississippi continue to spill over after an extremely low-pressure air mass dumped as much as 17 inches of rain in 24 hours. The Associated Press reports two fatalities so far.
According to one Baker resident—who had to abandon her home and slog to safety through biblical flood waters whilst a police officer carried her six year-old daughter—the snakes are out in force.
G/O Media may get a commission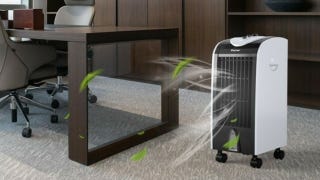 Save $10
Evaporative Portable Air Conditioner Cooler with Filter Knob
Exhibit B: Washington, D.C.
Historic heat records were smashed today as temperatures in our nation's capital soared above 100 degrees Fahrenheit, with a punishing heat index of 114 for the metro area. An excessive heat warning remains in effect until 11 pm tomorrow, so stay in and stay hydrated.
Exhibit C: Central California
The Soberness wildfire continues to rage through central California, topping 70,000 acres in size on Friday. The fire, which began in late July when some asshat lit an illegal campfire in Garrapata State Park, is proving especially difficult to fight as it eats its way through steep, rugged terrain in Carmel Valley and Monterey Peninsula. It could engulf over 150,000 acres by the end of August.
Exhibit D: That Fucking Pool In Rio
After promising us it was algae, reneging on that story and blaming hydrogen peroxide, then today suggesting it may be a mix of algae and hydrogen peroxide, Olympic organizers still can't seem to figure out how to restore a neon-green diving pool to its proper color. The embarrassing week-long saga will hopefully end tonight, after the pool is drained and refilled with unadulterated water.
Unless, of course, tens of thousands of Olympic protestors decide to urinate in the pool tomorrow morning.
Anything I miss?