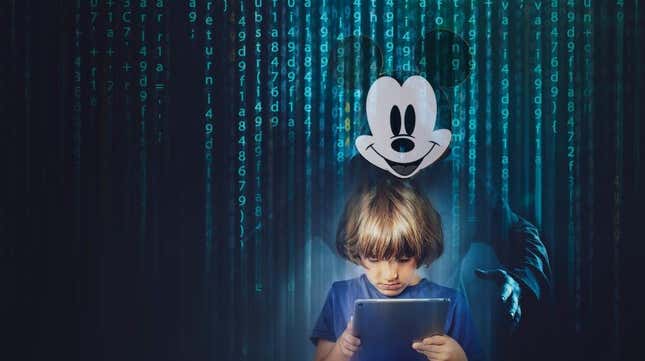 The ad-supported tier of Disney's child-distraction/video streaming service Disney+ goes for $7.99 a month. That's great for families on a budget and, up until now, has been great for fans of digital privacy: Disney didn't allow advertisers to target those ads at specific households. That's changing, though, and Disney is crowing about all the exciting new ways marketers can show ads to you and your kids as you veg out, unless you enable certain parental controls.
At first, according to Rita Ferro, Disney's advertising president, the ad targeting system "will be some of the basic stuff: age, gender, some geo-targeting." But by July, that will expand to the "full suite of targeting" options available on Hulu, which is also owned by Disney, Ferro said in an interview with Digiday. That includes automated bidding system that sends ads to specific audiences, third-party data integration, and options to target specific types of people.

Disney brags that it's already chopped its audience up into more than 2,000 different types of people for advertisers to choose from. Advertisers can select by characteristics such as demographics, purchasing behavior, and psychographics—marketing speak for psychological characteristics like personality, values, lifestyle, and attitudes.

A Disney spokesperson told Gizmodo that the company does not allow targeting for users 17 and below, nor does it show ads on preschool content or to users watching via kids' profiles.
Until now, Disney+ only let marketers set broad targeting parameters to show ads to everyone in the P2+ segment—that is, any viewer over two-years-old. But that's set to change as the company rolls its existing ad tools onto Disney+.
"Disney+ is part of our full integrated first-party data offering, and so to be able to turn that on and really deliver against it the way we have on Hulu, that's the plan. All the work has been done," Ferro said. "That's the beauty of having everything on the same ad server."
The Mickey Mouse data club has identified and assigned special ID numbers to 100 million US households, 160 million TVs, and 190 million mobile devices for advertisers to choose from, according to Ferro.

The company built its audience segments on the ocean of information it collects by tracking fans across its various websites and apps. (Did you think Disney wasn't watching you?).

Advertisers don't have to worry if Disney's hoard of consumer information doesn't offer the granular details they're looking for. Its systems allow marketers to sync with information collected by data brokers. Or if you're a marketer collecting your own data, you can just pipe that into Disney's handy "data clean room," an advertising tool that lets marketers upload lists of the customers you want to target, so a platform like Disney+ can identify any matching viewers and send them an ad.

Ironically, Disney's push into advertising comes in part as a response to tightening privacy restrictions. Apple's app tracking transparency setting, which asks iPhone users if they want to let apps track them, cut off the flow of data that fuels systems like the Facebook ad network. Google's plan to kill third-party cookies in its Chrome browser threatens to do something similar on the web.

That gave companies like Disney, which have a ton of data about their customers, an opportunity to launch their own ad networks. Over the last few years, Disney's been tempting advertisers with the opportunity to leverage "the industry's largest and most robust first-party data library," which the company calls "increasingly essential" as privacy rules tighten.

Correction, Jan. 23, 9:06 p.m. EST: A previous version of this story stated that Disney's first-party data included information on customers' visits to the company's stores and theme parks. That information is not part of Disney's first-party data.