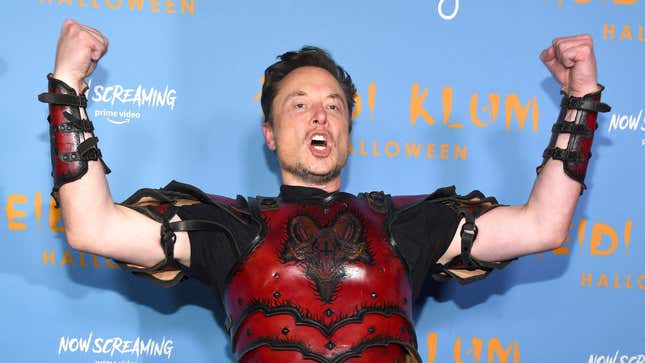 Are you not entertained?! Mark Zuckerberg and Elon Musk's will they/won't they continues, and it appears that the long awaited fight between the two tech billionaires could take place in Italy.
Is Threads a Threat to Twitter? | Future Tech
Musk tweeted this morning that he spoke to the Prime Minister of Italy and the Minister of Culture to hold the brawl in Italy at an "epic location." Musk said the event would be livestreamed on Meta and X, the social media platform formerly known as Twitter, and that "everything in the camera frame will be ancient Rome."
Presumably, the fight will be handled by the Musk Foundation and the Chan Zuckerberg Foundation, with no involvement from UFC. Musk tweeted in a reply that all proceeds from the fight will be donated to veterans.
Zuckerberg responded on Threads this afternoon to Musk's ramblings about ancient Rome. The Meta CEO told his followers that he was "not holding [his] breath for Elon" and that he will confirm the date if Musk ever extends an official invitation. Zuckerberg, a practicing Brazilian jiu-jitsu fighter, countered Musk's decision to ice out UFC, claiming that the only way to make sure the fight goes off without a hitch is by working with the Ultimate Fighting Championship and ONE.
Minister of Culture in Italy Gennaro Sangiuliano revealed on X this afternoon that he had a "long, friendly conversation" with Musk. Unfortunately for the billionaire, Sengiuliano stated that the fight would not be held in Rome, ruling out any possibility that the event would be held at the Colosseum. In his official statement, Sengiuliano said the fight would generate donations worth millions of Euros toward pediatric hospitals.
The fate of the fight was already on the rocks earlier this week when Musk claimed he needed medical attention before he could commit to the event. Musk tweeted on August 6 that he would be getting an MRI of his neck and back for a condition that may require surgery. In an update today, Musk revealed today that an MRI on Monday showed his right shoulder blade rubbing against his ribs and that the condition requires "minor surgery" to fix with a few months of recovery time.
For now, it would appear that the Gladiator-inspired brawl is on ice. At the same time, who are we to believe that Zuck has given the OK to any of this? Musk has a tendency to try and tweet things into existence, and Zuck might not be down to make a mockery of one of his favorite hobbies, Brazilian jiu-jitsu. Communication has been reportedly lacking between the two anyway, with Zuckerberg posting on Threads earlier this week that he's "not holding [his] breath" that the fight will even go through.
This is a developing story.
Meanwhile, check out our tech, science, or io9 front pages. And you can always see the most recent Gizmodo news stories at gizmodo.com/latest.
Update August 11, 3:25 p.m. EST: This article was updated to include Zuckerberg's response to Musk on Threads.
Update August 11, 5:05 p.m. EST: This article was updated to include Minister of Culture in Italy Gennaro Sangiuliano's statement.