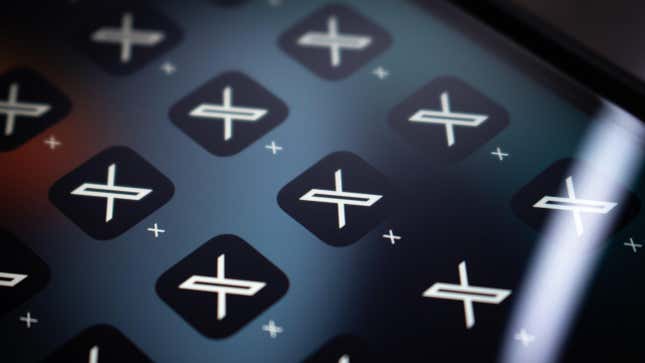 Elon Musk's big push to make Twitter into an "everything app" like the China-centric WeChat is taking the app down the rabbit hole of dubious data collection. This week, the company modified its privacy policy to include provisions for "Biometric Information" and "Job Applications/Recommendations."
Mr. Tweet Fumbles Super Bowl Tweet
Twitter—the name we will continue to use despite Musk's insistence to the contrary—says that "based on your consent" the site may collect their biometric ID for "safety, security, and identification purposes." The site offers no more details about what biometric data it's looking for, and Twitter did not respond to Gizmodo's request for clarification.
More than likely, this seems to be Twitter's attempt to add another layer of verification on top of its $8 blue checkmark subscription. Recently, X was testing user verification using a government ID. As detailed by an app researcher, the consent form for that verification also included an agreement for Twitter to store their biometric data "for up to 30 days." This ID included a live selfie, AKA a face scan, which would be sent to a third-party company.
Twitter wouldn't be the only company to mandate biometric data in exchange for verification. Meta's Instagram implemented a selfie-based age verification system last year for U.K.-based users. Both Facebook and Instagram have their own blue checkmark verification schemes, which require that users hand Meta over a government ID and pay to get extra impersonation protection.
And Twitter now wants to gather users' employment history, educational history, and job search history" to "recommend potential jobs to you." Otherwise, the site says it will share all this information with whichever employer users are applying to. It's unclear whether Twitter will also be sharing users' posting history or more information with potential employers, but Musk does seem to want Twitter to become the next LinkedIn.
Most employees or employers don't think of Twitter as their go-to spot for finding quality candidates, but the site owner seems to think job searchers will be willing to offer up more of their personal data to feed Twitter enough food to turn it into Musk's long-dreamed everything app. The billionaire is already trying to implement stock trading on his microblogging app, while CEO Linda Yaccarino has talked up adding payment services and more ill-fitting ideas on Twitter.
But while Musk is throwing most of what made Twitter, Twitter right down the toilet, he's struggled to build a working paid verification system out of the rubble of the old, free blue checkmark apparatus for public figures. While the number of $8 fakes has calmed in recent months, the blue checkmark has become synonymous with Musk sycophants, or worse. Since then, Musk has stopped users from seeing if a verified account is paid for and allowed users the option to hide their checkmarks altogether.
For all those desperate enough to let Musk peak at their employment data, you might want to look up his own fraught history with his many companies' workplaces, whether that's allegations of hiring discrimination, multiple examples of retaliation, union busting, alleged unsafe conditions, and a toxic hustle-focused work culture that leaves little room for life outside the office. Whatever Twitter decides to do with LinkedIn features, we can't see it emphasizing too much employee happiness with Musk at the helm.