Six weeks ago, people began getting Apple's latest piece of luxury hardware, the Apple Watch. Reviews have been mixed, but the company aims to change that by giving developers a chance to develop more apps for the new Watch OS — which means users will soon have a ton of apps to choose from.

Tim Cook began his keynote at WWDC by announcing that native apps are coming to Apple Watch, with a new version of the Watch OS "which gives developers more time to create more apps for the Watch that will change the world." And just now, Apple VP of Technology Kevin Lynch took the stage to tell us what's new in watchOS 2.
The main revelation is that watchOS 2's WatchKit will be opened up today to developers who want create native apps. That means that you'll be able to do a lot more directly from your watch, without having to go through your phone. Your Watch apps will update on their own, without syncing to the phone; and you'll be able to interact with apps more directly using the Watch. Many apps will take advantage of the crown on the Watch as part of the interface too, so expect to start controlling more apps with twists of the crown.
"It's going to be a great new frontier for your watch," Lynch said. So start writing those apps, developers. We're counting on it.
And here's what watchOS 2 will bring to users.
Timepiece
They're adding "photo face," which will allow you create a watchface out of a photo or even a revolving set of photos from an album. In watchOS 2, developers can also create their own Complications — those bits of just-in-time information that flash on your AppleWatch screen along with the time. Now, Lynch said, you can "chose what you want to see on your app face," from the weather, to next flight you're taking.
G/O Media may get a commission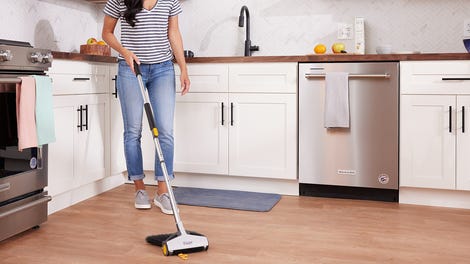 BOGO 50% Off
Flippr - BOGO 50% Off
More interestingly, they've also introduced a feature called "Time Travel," which lets you scroll through Complications by rotating the crown — just scroll forward to see what's coming up on your calendar, or even what's predicted to happen with the weather later in the day.
Also when your watch is charging, you can also get Nightstand Mode. It creates a nice alarm clock watchface — with the crown serving as a snooze button.
Communication
In watchOS 2, you can do all the things you would have hoped you could do in watchOS. Yep, you can add new friends right from the watch face. You can use the watch to make a call (not just receive one), reply to an email or message, and even use Facetime audio. Also, you can send multicolor doodles, because that's important.
Developers will now have access to the microphone and speakers for apps. So expect more apps that use the Watch speakers and mic.
Health and Fitness
Fitness apps will run natively on the watch, and will interface nicely with the accelerometer and other sensors to capture your golf swings, bike rides, and more. Also, you can use Siri to create special workouts, like a 30 minute run or a 500 calorie bike ride. She'll monitor your activity and keep you posted on how you're doing. You can also share your achievements more easily with friends on Facebook, Twitter, and more.
Lynch emphasized that developers should pay attention to how much easier it will be to use the watch accelerometer and other sensors with native apps, as well as HealthKit.
ApplePay, Siri, Maps
You'll have full ApplePay functionality in watchOS 2, with your rewards cards in there too. Just select a card, and you're off. Siri is more useful too — she can give you mass transit directions (working with the new transit maps feature), and control networked devices in your home.
At last, the Watch is starting to become the useful gadget we hoped it might be one day. Now it's time to wait and see what developers bring to us in the App Store.
---
Contact the author at annalee@gizmodo.com.
Public PGP key
PGP fingerprint: CA58 326B 1ACB 133B 0D15 5BCE 3FC6 9123 B2AA 1E1A