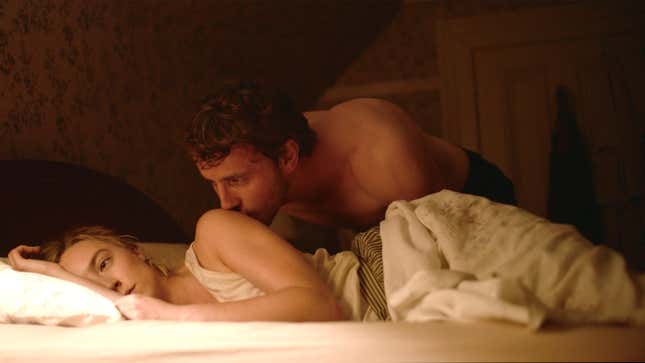 We all know not to judge a book by its cover, but apparently, that also extends to movies. Take the above officially licensed still for Foe, starring Oscar nominees Saoirse Ronan and Paul Mescal. If you don't know anything about the source material, you look at that image and form a pretty clear picture. It's some sort of indie drama about marriage troubles completely with powerhouse acting. And while most of that is true of this film, it's also set in the future with artificially intelligent robots, space travel, and more.
Oh, now we have your attention? Good. Check out the first trailer for Foe, which Amazon will release in theaters beginning October 7.
Foe is directed by Garth Davis, whose last film—Lion, starring Dev Patel—was a worthy awards darling. Davis co-wrote the script for Foe with Iain Reid, whose 2018 novel is the basis of the film. And, as you can tell from the trailer, it is in fact about a married couple going through issues married couples go through, only that gets taken up many, many notches when a stranger (played by Aaron Pierre) comes into their lives, forcing decisions no person should ever have to deal with. Like does one of us go to space and do we leave a robot here to keep you company?
Reid's novel is generally beloved but we all know film adaptations can be very hit or miss. Here though, with Davis at the helm, along with two outstanding actors in Ronan and Mescal, we have hope. Hope that, by the looks of how Amazon is positioning this, could see the film become one of the contenders as Hollywood moves into a very uncertain awards season.
Foe opens in U.S. theaters on October 6 and will be followed by releases in Canada, Australia, the United Kingdom, and Ireland later that month. Presumably, a few weeks after that, it'll end up streaming on Prime Video.
---
Want more io9 news? Check out when to expect the latest Marvel, Star Wars, and Star Trek releases, what's next for the DC Universe on film and TV, and everything you need to know about the future of Doctor Who.